Click to enlarge the image!
Käsekrainer

This feat of the Austrian kitchen which owns a nickname that compares it to pus – the mighty cheese-filled Käsekrainer – is the source of a lot of pride for any sausage-loving Austrian. Respect it in all its glory as the sausage of all sausages in Vienna. And keep in mind, these sausages should come with a safety warning: be sure to stand in spitting distance from everybody when first biting into this baby – they spit hot cheese!
Where to get this dish? Check out our list of Vienna's most unique Würstelstande to learn where to get the best Käsekrainer in the city, here.
Leberkässemmel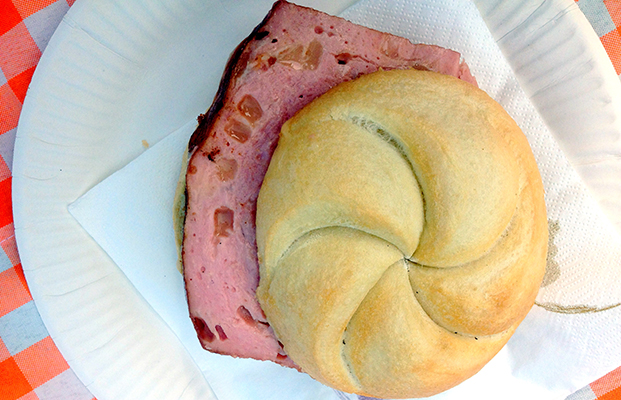 This beautiful ugly 356 calories of delight, the Leberkässemmel, is a favourite street food amongst all sorts across the social spectrum.
So next time you're at a party and are feeling nervous to chat up the pretty girl in the corner, just remember – no matter how elegant you think that girl looks, you can be sure she's smashed a Leberkässemmel at some point in her life.
There's something so perversely satisfying about sinking your teeth past the crunch of the Semmel (bread roil) and into the spongy, fleshy, sweaty pinkness of the pressed loaf of meat known as the Leberkäse. While available at most Würstelstände, the best quality will always be found in butcher shops.
Where to get this dish? The Leberkässemmel can be found at a lot of Würstelstände. For us, these are three of Vienna's best places to devour the caloric sin:
Würstelstand LEO (If they have it, opt for the boar Leberkässemmel)
Where: Döblinger Gürtel 2, 1190
Würstelstand am Hohen Markt (Here, you'll also get your horsemeat Leberkässemmel fix)
Where: Hoher Markt 1, 1010
Leberkaspepi (One with an all-Leberkäse expertise. Also try their seasonal varieties)
Where: Operngasse 12, 1010
Heurigenbuffet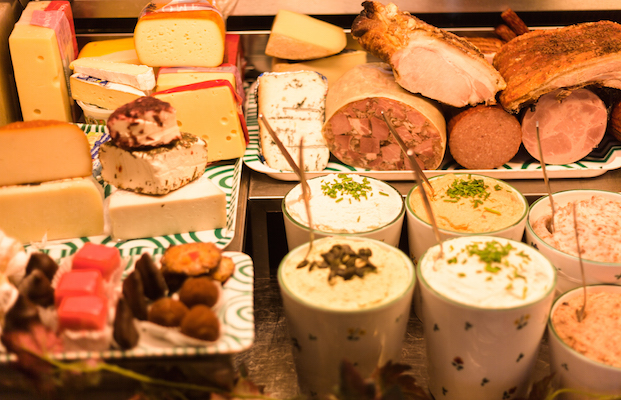 This Vienna must-eat can only be consumed in the beloved Heurigen (wine taverns) surrounding the city in outlying districts. Here, alongwith wine made by small-time producers connected to the actual tavern your sitting in, your eyes will explode when you see the variety of foods to choose from at the Heurgienbuffet – cured and roasted meats, cheeses galore, spreads alongwith tasty brown bread to go with it and plenty of more options, further than the eye can see.
Where to get his dish? Check out our article about the Heurigen in the Stammersdorf region, here. 
Otherwise, we'd recommend drinking and eating at Müllers Heuriger in the Grinzing region.
Knödel

The Austrian variations of the dumpling are typically made out of bread, flour or potatoes, while those that like to live their adventure through food can try the Leberknödel (liver dumplings) or the Grammelknödel (pork fat dumplings).
The making of the perfect Knödel is a contested discussion had by all throughout the land, with most claiming their Oma's (grandmother) recipe to be the best. These modest balls may contain little in terms of nutrients, however they're packed with the homey warmth of the Austrian kitchen. They usually play a supporting role to a main meat dish, and often come served smothered in a gravy sauce.
Where to get this dish?
Restaurant Pürstner
Where: Riemergasse 10, 1010
Wiener Schnitzel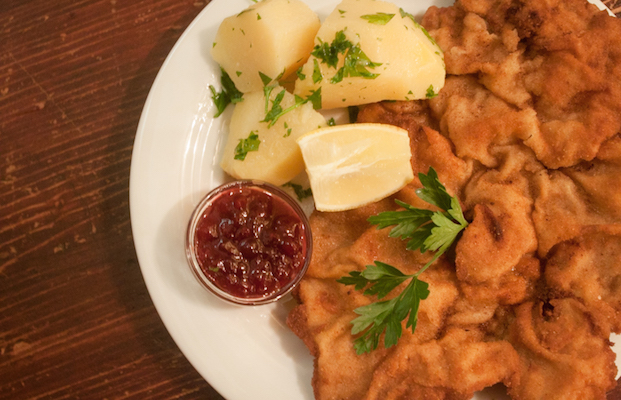 From the monster Schnitzel bigger than your plate that require several shots of Schnaps afterwards to beat down in your stomach, from places with endless varieties of the deep-fried, flat meat dish, Vienna is full of restaurants serving this all-time-favourite of the city's cuisine.
The original version of the Schnitzel is made with veal, while the only acceptable side is a potato salad with a drizzle of pumpkin seed oil.
Where to get this dish? Check out Vienna Würstelstand's guide to where to find the best Schnitzels in the city, here.
Backhendl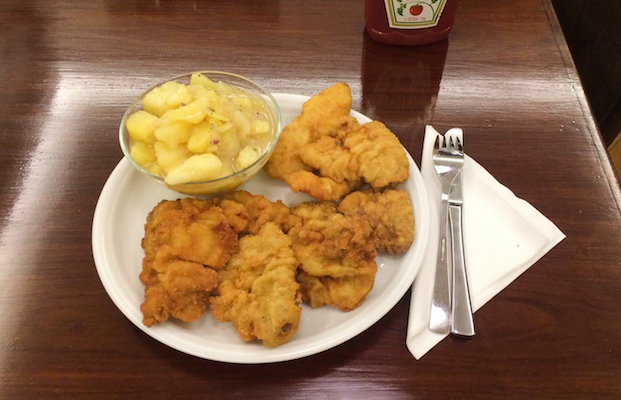 Deep-fried bird – there's a reason most countries have some variation of this dish. The Austrian version could teach Kentucky and the Colonel a few things about how to fry chicken. You'll find it on every Gasthaus menu accompanied with a potato salad, and with a typical drizzle of pumpkin seed oil on top. For the Diet Coke version of the dish, there's the Backhendl salad on most Gasthaus' menus (involving strips of deep-fried chicken on a bed of salad)
Where to get this dish?
Schilling
Where: Burggasse 103, 1070
Tafelspitz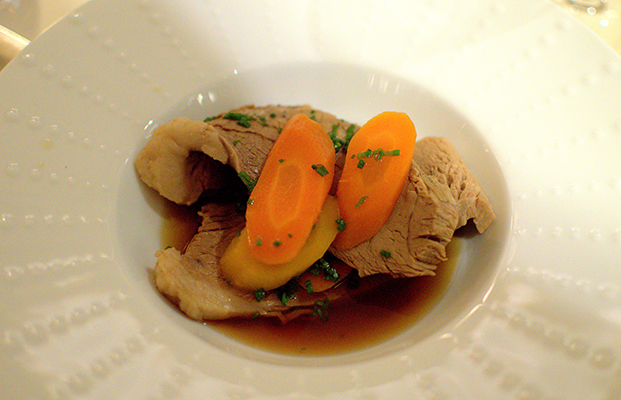 While boiled beef or veal in broth doesn't sound that appetising, a well made Tafelspitz with a generous side of horse radish and apple sauce makes for a delicious dish. It was one of Franz Josef's favourite dishes, with rumours saying that there was always a fine slice of boiled beef on the Kaiser's dinner table.
The topside cut of the cow is uniquely served full of complex flavours as it is cooked in a simmering pot of root vegetable broth for hours.
Where to get this dish?
Plachutta
Where: Wollzeile 38, 1010
D'Landsknecht
Where: Porzellangasse 13, 1090
Stelze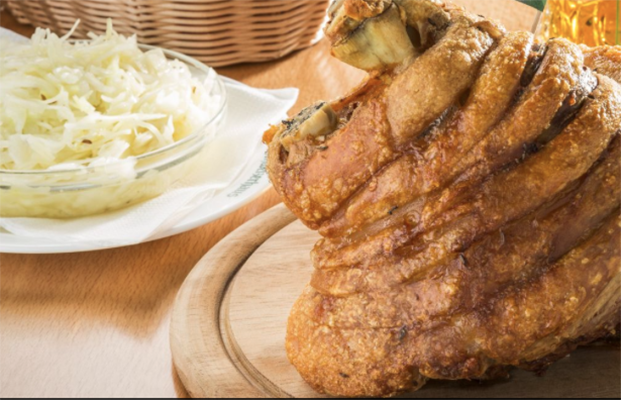 This is by far not a typical Viennese dish, however we couldn't help but include the Stelze (roasted pork knuckle), with it's oh-so-crispy crackle shell in the list of must-eats in Vienna because the city houses one of the best places to get one – the Schweizerhaus. Plenty of fun can be had at this beer garden slash restaurant hidden in the fun fair of the city's biggest park, the Prater. The look of a person's face as the busy waiter approach their table balancing the massive lump of pork on a bread board can be likened to the awe and determination of a lone warrior charging into an army of thousands. The crackle skin will make you want to strip the piece of meat like a horny sailor (sorry, we're not sure what we're getting at here) and then you'll spend a bit of time sweating as you try to tackle the mass of juicy pork underneath. To be honest, we've never seen anybody conquer a whole Stelze by themself (without taking on the moan of a giant beached whale with a block blowhole) so we'd recommend sharing.
Where to get this dish?
Schweizerhaus
Where: Im Prater 116, 1020
Fiakergulasch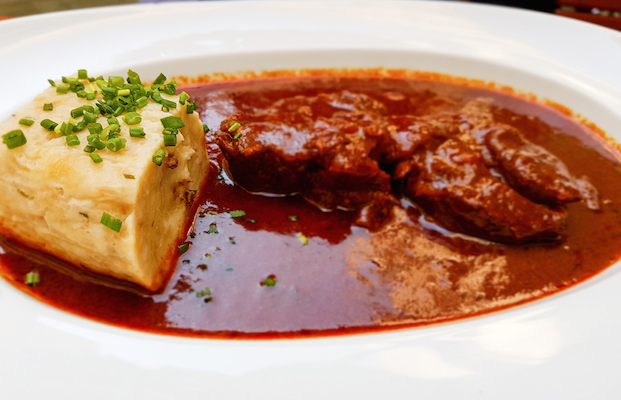 This hearty Viennese mutation of the typical Hungarian Goulash is named after the Fiaker (horse and carriage) drivers that clippety clop around the city. We assume that's because back in the day they'd make this dish out of the horses once retired from pulling carts, however the more innocent and less disturbing possibility could be that the dish was just a favourite amongst the Fiaker drivers.
The Viennese took the fiery and tasty goulash one step further by topping it with a fried Sacher Würstel, an egg and – we know, your mind's blown!
This one's a bit harder to find, but the die-hard Gasthaus' will have it on their menu.
Where to get this dish?
Schutzhaus am Schafberg
Where: Czartoryskigasse 190–192, 1170
Kaiserschmarrn
Another endearing thing about Vienna – eating desert as a main dish is more than socially acceptable, it's encouraged. A trend endorsed and started by the mighty Emperor Franz Josef, the dish that can be best described as scrambled pancakes was a favourite of his, hence why the name of the dish translates to 'The Emperor's mess.'
Quick history lesson: the Schmarren is a colloquialism used in Austria and Bavaria to mean " mess, nonsense and folly." Good old Kaiser Franz Joseph's love for this dish was made fun of as his "folly".
The fluffy, carmelised scraps of pancake, powdered in icing sugar, is typically accompanied by a side of apple or plum compote.
Where to get this dish?
Heindl's Schmarren & Palatschinkenkuchl
Where: Grashofgasse 4, 1010
Apfelstrudel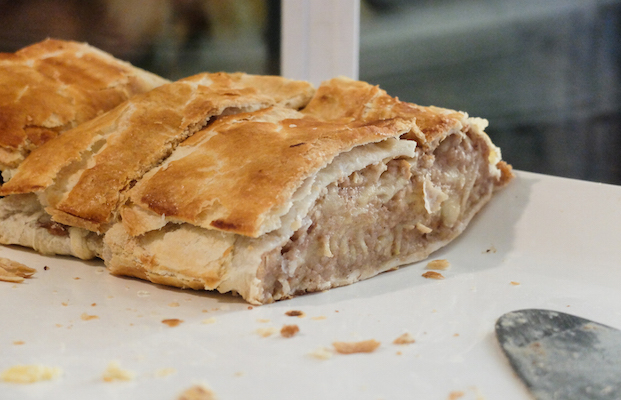 This strudel pastry – spiced and stewed apple chunks with raisins wrapped in thin layers of pastry – became one of Vienna's biggest hits abroad a while back. Once you've stuffed yourself with this sweet, sweet warm desert (with the side of cream) you can head over to the Wienbibliothek im Rathaus (town hall library) where you can find the first handwritten recipe from 1696.
Where to get this dish?
Kaffee Alt Wien
Where: Bäckerstraße 9, 1010
Café Korb
Where: Brandstätte 9, 1010
Get content that you love in your inbox!
Hey, look at this similar content we made for you