Before you start swinging to this article, press play:
Now, if you're not up and dancing wherever you are, you should see a doctor.
Swing Dancing, and the Electrified big band swing version, Electro Swing, has made it into the Vienna bloodstream and is having side effects: uncontrollable kicks and hand jives, and people being randomly slid under other people's legs on the street … ok, perhaps we're exaggerating, but it sure is popular here in Vienna.
What the hell is electro swing? Well, nobody really knows but just imagine if you were to throw 1920s–1940s Chicago and New Orleans with modern day Berlin into a cocktail, and shake. It's a combination of Jazz, Big Band Swing, Charleston and Electro House music, all mixed by fedora-wearing millennial DJs on decks. And lindy hop is one kind of the original Swing dance popular in the 30ies and 40ies, that has recently been revived in a big way, both internationally and in Vienna.
Whether you're already addicted to Electro Swing/Lindy Hop/old-school Swing dancing, or you want to be, we've compiled a guide on where to get your fix in Vienna:
Vienna's dealers in Swing
What websites to follow for updates on the Electro Swing/Lindy Hop/Swing scene, and events in Vienna
Electro Swing Carneval
This electro swing crowd hold the most regular events in Vienna, typically in the Café Leopold. Keep an eye on them for their next event.
Swing it!!!
They claim to be the site housing the news from the international electro swing scene in Vienna. They have some very useful links for fanatics.
Electro Swing Austria
A go-to website with international reach (but local focus as well) for all things electro swing. There's a blog, the freshly squeezed new tracks from local DJs and much more.
Sugar Daisy's Hot Club
A swing music collective of talented musicians holding monthly live events. More old school big band, Charleston tunes with plenty of horns and a big-ass bass. Damn, they're fun to dance to.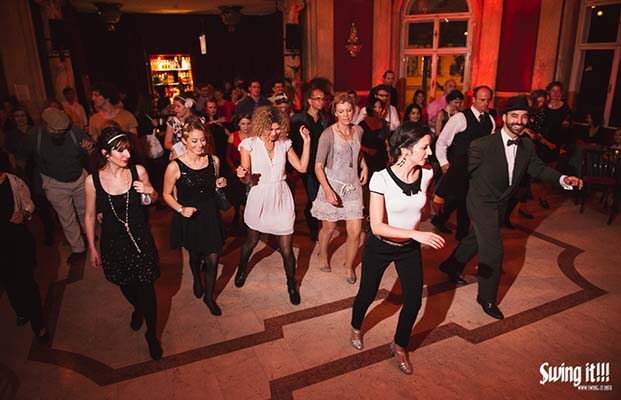 © David Willinger / dwphoto.at
Some like it hot!
It's quite simple: if you're into lindy hop, Charleston, and Big Band Swing (electro or not), you should be following this website. There's a nifty calendar showing all events happening around the city and they also offer lindy hop classes.
Swing in Vienna
Join up to this facebook group to become part of the swing scene in Vienna.
IG HOP 
If you're more into the Swing dancing side of it al,l than the dressing up in vintage clothes, you should be following this site. Lindy hop is their thing, offering occasional events and regular workshops.
Local Electro Swing DJs to watch:
Kiss me yesterday

Parov Stelar

Mr Harvey Miller

Bastard Bastoni

Cab Canavaral

Also listen into the radio podcast, From the Top, hosted by Vienna-based Swing pros, IGhop.
Where to get the good stuff
We mean where you can you dance swing and where can you catch the city's coolest Electro-swing parties …

© William Newman/Flickr
Below is a list of the locations regularly holding swing (electro swing and old-school) events. These may change, so be sure to check their Facebook pages. Keep in mind, most events require (or strongly encourage) a 1920ies dress code.
Schwarzberg – Swing Dance with live band
Monthly, they host the old school swingers (of music, you dirty-minded people) Sugar Daisy's Hot Club which typically boasts a live band and a free tasterclass for beginners at 9pm.
Circe Rouge @ Rote Bar – Swing Dance/ Electro-swing
The red velvet curtains and chandeliers make for the perfect setting for the swing enthusiast to get in character. They typically begin here with original swing tunes and work their way onto electro-swing later in the night. On occassion, there's even professional burlesque dancers performing. It may be expensive and the floor may be a little too small to dance reall swing, but if you ever see a electro-swing event happening here, don't miss out. It has a very unique flair this party and dressing up is encouraged!
The Eightcount @ Elysium – Swing Dance/lindy hop
Every Tuesday in the dark, dank cellar tunnel of Elysium, a whole lot of dancing is going on at The Eightcount social swing night, which caters for all Tempos, all Styles but mainly for Lindy Hop. It will cost you 5 € entry (drink voucher included).
Shuffle Cafe @ Bar Azul – Swing Dance/lindy hop
It's Shuffle Café every Wednesday at Bar Azul for a solid 3 hours of dancing. The music is more bluesy, but you can still get away with a tamer version of lindy hop. 'I've got ze Blues in ze shoes.' Think Blue Brothers – the Dan Akroyd and Belushi version. Classes are held between 7pm and 8pm, while the experienced take the floor 8pm and 11pm. It will cost you a voluntary donation to get in.
Swing the Boat @ Badeschiff – Swing Dance/lindy hop
Every second Sunday, Lindy Hop dancers are trying their best to sink the ship by swinging the boat at this event (yep, you guessed it) 'Swing the Boat.' It sometimes comes under another creative name like, 'Sunny Swing Up.' Check the Badeschiff Facebook page to see when their next Sunday of swing is happening. There's a taster class for beginners between 6:30pm and 7:30pm, while the social dance carries on into the early morning with a DJ on deck. The original swing tunes here also suit the faster brand of Swing dancing, Shag.
Rockstep @ Aera – Swing Dance/lindy hop
There's the monthly Rockstep Lindy Hop, Balboa and Charleston event happening once a month at the Aera. Meanwhile, keep an eye on this place for other Swing nights (and for all the other interesting events they hold, actually).
Cotton Candy Club @ the Fledermaus – Swing Dance/Lindy Hop
The tiny atmospheric Fledermaus is an institution in this city for all brands of vintage music. In terms of swing, you'll find most nights you'll be able to incorporate lindy hop into your dance moves. However, the regular rock and Burlesque event hosted by the kooky crowd from the Cotton Candy Club is your best bet.
Secret Swing Club @ The Lounge – Electro Swing
This regular electro-swing party at the Wombat Hostel's Lounge bar is a popular one amongst those who like the electro swing genre. It's free entry and the music is more for partying than swing dancing.
Swell Time Vienna – A Mad Men Night Out – Electro Swing
The Swell time electro Swing crowd tours the city with their buzzing parties,often frequenting the likes of Cafe Leopold and, in summer, Volksgarten Pavilion. Dressing up for the party is also encouraged and will get you a discount at the door. Keep an eye on the Swell Time Facebook page for details on when and where their next party is.
To keep up to date on all Swing events in Vienna, keep an eye on the Some Like it Hot! website.
Where to learn to dance like a pro Lindy hopper, swing dancer?
If you're interested in looking like a pro on the dancefloor at all of these swing parties, check out the following websites for courses in Vienna:
Some like it hot!
This is the largest and most popular provider of Swing dance classes of all kinds. Classes are reasonably priced, last over almost a semester, and have a lot of people in them, therefore you'll get to know a lot of people in the scene, meaning you'll lose your shyness on the dancefloor quicker.
SwingAUT
Led by the experienced and talented dancers Dom and Nora, the here are quality. While they offer a range of courses here from Charleston to Jazz and Lindy Hop, they also have a brilliant beginners course with a even better starter price ( 6x lessons for 65 €). They're also hosting several dance camp workshops and lessons at international festivals.
IG HOP
This is probably the second largest teacher of the Swing dance dark arts in Vienna. While the courses here are a little more expensive than the crowd from Some Like it Hot!, they are smaller, meaning you'll get more help from your teacher. Classes typically last for 8 weeks. And IGHop are also known for inviting international professionals to come and teach classes for several weeks on end. They also host a radio podcast 'From the Top.'
Die Angewandte Tanzt
Hosted by two awesome dancers, Georg and Diana, who liek to travel and host workshops all over the world often hold workshops at the die Angewandte Uni. And course participation is not exclusive to students – everybody is welcome. The prices are reasonable for their courses (5 x 2 hour lessons).
Balboa Baby!
Here they specialise in teaching the Balboa brand of Swing dance (a more intimate, less wild form of Swing suited for confined dancefloors). They're also the hosts of the weekly Rockstep night at the Aera, and a highly-regarded weekend workshop involving international dance teachers, the Laminu Experiance.
Now, Swing-a ding-ding! Here's something to get you warmed up!