Singing, dancing without moving your arms, a green pint or two – it's St Paddy's day again and even though it's on a Tuesday this year, it's safe to assume this year will be one hell of a Craic!
Here's how to go green (literally – if ya' drink like the Irish, you'll be going green by 2am) be Irish, and celebrate St Patrick's Day in Vienna. (Tuesday, March 17, 2020)
The big St Patrick's celebrations
The pubs putting on the works for their Paddy's Day parties: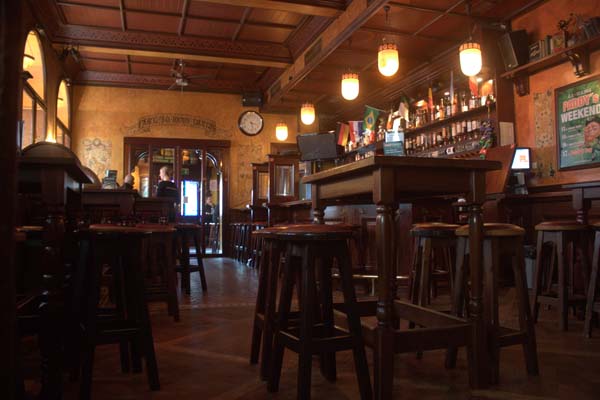 Where: Teinfaltstraße 6, 1010
When: FR – SAT, March 13–14 & TUE, March 17
One of Vienna's most beloved Irish pubs, Molly Darcy's, will already start on the Friday before Paddy's day with the celebrations. They'll dye their beer green, have plenty of live Irish music happening throughout the weekend, and all the other shenanigans you'd expect from this beloved Irish festival. Meanwhile, expect it to be as busy as the tap-dancing, yodelling lion exhibit at the zoo on Tuesday (this exhibit may, or may not exist). And if you get thrown out for unruly behaviour, don't worry – they'll have a bar outside as part of Molly Darcy's lively street party. Besides, Molly Darcy's are also known for their good pub food that will pair well with your green beer.
Where: Charlie P's
When: MON, March 16, 7pm
Entry: 10–15€, buy a ticket
The stand up comedy crew from Jokes on you is bringing a couple of funny Irish people over to Vienna to join in on the Paddys day celebrations. On the Monday night, there will be a bunch of funnies being made on stage by Irish comedian Brian Gallagher, along with a few opening acts.
Meanwhile, Charlie P's has got a lot else happening in the lead up to St Patrick's Day, including a quiz on the Sunday and DJs on Saturday and Tuesday night. Check out the details on their event page. 
When: TUE, March 17, from 7pm
Where: Na-nÓg Irish Pub
The Irish pub out in the 18th, the Na-nÓg (yes, that is its real name), are calling one and all to go green while listening to some live music on the day. Check out more details on their Facebook page.
When: TUE, March 17, 7pm–1am
Where: Dachboden Wien
At this shamelessly branded event, the welcome shots will already be served in the lift heading up to the rooftop bar, Dachboden Wien. As the name already suggests, Jameson is the liquid star sponsoring the night, which will be served in all kinds of drink creations especially concocted for the evening. Plus, and this is the real highlight, professional barbers will be in the bar ready to work their magic on your beard, or short hair (the event description says it, not us), and they'll do it for absolutely free. Because everybody needs to atleast good before they go green on St Paddys, right?
Other Irish bars where to go green on St. Patrick's Day in Vienna
Here are a few other Irish bars around the city we recommend to celebrate St Patrick's Day – green beer, Irish folk music, and those tacky merchandise Paddy's Day hats are guaranteed to be included.
Flanagan's
Where: Schwarzenberg Straße 1–3, 1010
Opening Hours:
MON–THU: 10am–2am
FRI–SAT: 10am–4am
SUN: 10am–2am

The Long Hall Bar
Where: Florianigasse 2, 1080
Opening times:
MON–THU: 11am–12am
FRI: 11am–2am
SAT: 10am–2am
SUN: 10am–12am
The Green Room
Where: Hernalser Hauptstraße 56, 1170
Opening hours:
DAILY: 5pm–2am
Johnny's
Where: Schleifmühlgasse 11, 1040
Opening Hours:
MON: 5pm–2am
TUE–SAT: 5pm–4am
SUN: 5pm–2am
Dublin Irish Pub
Where: Gumpendorfer Straße 93, 1060
Opening Hours:
MON–THU: 4pm–1am
FRI: 4pm–2am
SAT: 5pm–2am
SUN: 5pm–12am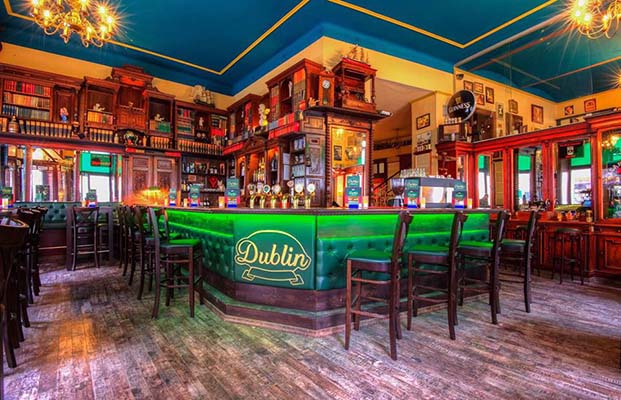 Photo via facebook.com/pg/IrishPub.Vienna
Four Bells
Where: Schleifmühlgasse 2, 1040
Opening Hours:
MON–THU: 4pm–12am
FRI–SAT: 4pm–2am
SUN: 4pm–12am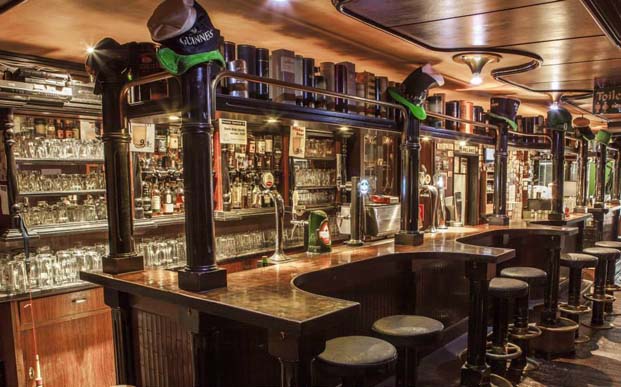 Bockshorn
Where: Naglergasse 7, 1010
Opening Hours:
Daily: 4pm–2am

Shamrock
Where: Kirchengasse 3, 1070
Opening Hours:
MON–THU: 6:30pm–12am
FRI: 6:30–2am
SAT: 3:15pm–2am
SUN: closed
Plus: Irish folk music will be on the speakers.
O'Connors Old Oak
Where: Rennweg 95, 1030
Opening times:
MON–FRI: 10:30am–1am
Sat: 1pm–1am
Sun: 1pm–10pm
Check out other spots to celebrate St Patrick's day in our list of Vienna's best Irish bars.
If you can't decide to which pub you wanna go
Where: Starting at Dick Mack's Irish Pub
When: SAT, March 14, 9pm
Make sure to reserve a spot!
Why choose to only celebrate the day in one Irish pub if you can go to a whole bunch of them! Oh, this night is gonna' get nasty, no doubt. The crowd from Vienna Night's Pub Crawl will be hosting a special tour in the spirit of the day. The crew is promising a bunch of games, shots and free green beer! (Like we said, it's going to be messy). Oh, and they'll give you a free hat. So, we're not sure how much it all costs as this was not specified on their event page, however, you do have to reserve. That much we do know.
Celebrating St Patrick's Day without a pub
When: FRI, March 13, 7pm
Where: Orpheum Wien
Entry: 25€, buy a ticket
The tunes of Irish music will be provided by the bands Paddy's Return and Gatehouse to get you in the St Patrick's Day spirit. In addition, the Shamrock Dance Company Vienna will be showing off their quick feet and super straight arms and posture when they break out into some Irish dancing! This will all be happening at the Orpheum Wien.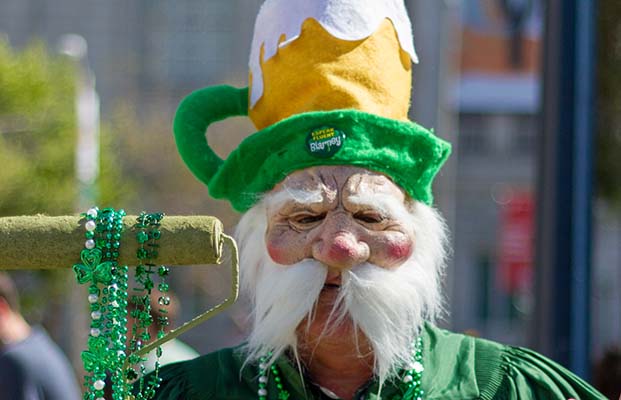 When: SAT, March 14, 12pm
Where: the parade starts at Schottenstift 
An army of green will be marching around the city on Saturday afternoon – spot the Irish dancers, the random confused Scot playing the bag-pipe and the leprechaun amongst the sea of those Guinness or Magner novelty green hats that everybody has a collection of at home from years of Paddy's day celebrations. And everybody is welcome to join in on the parade! It will start at the Schottenstift church in the old city centre, carry on to the Freyung, and worm its way to the Gasthaus Stiegl Ambulanz. This bar, with its massive beer garden located in the Altes AKH, will play host to a family-friendly festival where there will be dancing, Guinness and other Irish-inspired fun.
When: TUE, March 17, 7pm–10:30pm
Where: DDSG Station Schifffahrtszentrum
Entry: 49€, buy a ticket
A completely Irish-inspired buffet, with specialties ranging from potato scones to fish and chips to apple pie with baileys cream, will be on offer on this boat cruise slash Paddys Day celebration. Irish booze will be served up with the feast, while traditional music will be playing as you cruise along the Danube on a pretty ship.