When hearing of the concept of Schachtelwirt – Austrian cuisine starlets like Schnitzel and Schweinsbraten, served up to go in a takeaway box – it won't come as a surprise when you discover that the place is lost in Vienna's infamous Bermuda Dreieck (Bermuda Triangle).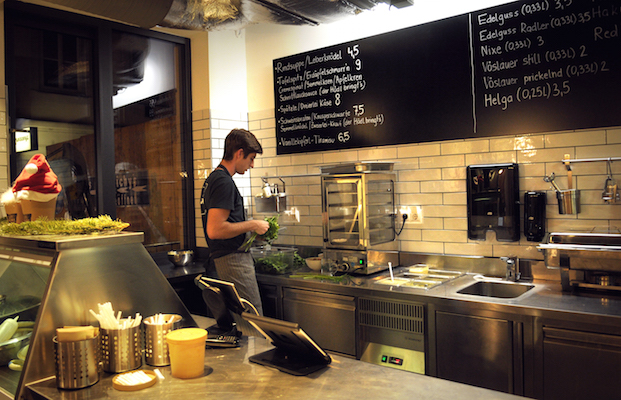 Photo by Dana Daskalova
As I stood opposite Schachtelwirt waiting for my photographer, I couldn't help but think, 'where the feck have they sent me?' Looking down the street I could see the tip of the Bermuda Dreieck, a place I've avoided like the plague since arriving fresh off the boat in Vienna due to it's infamous reputation as a place of 2 € shot fuelled after dark madness.
I steeled myself to enter Schachtelwirt and was immediately hit by the smell of cheese. And lots of it. A quick glance to my right revealed a mountain of golden crackling, which gave the hairs of the inside of my nose an erection.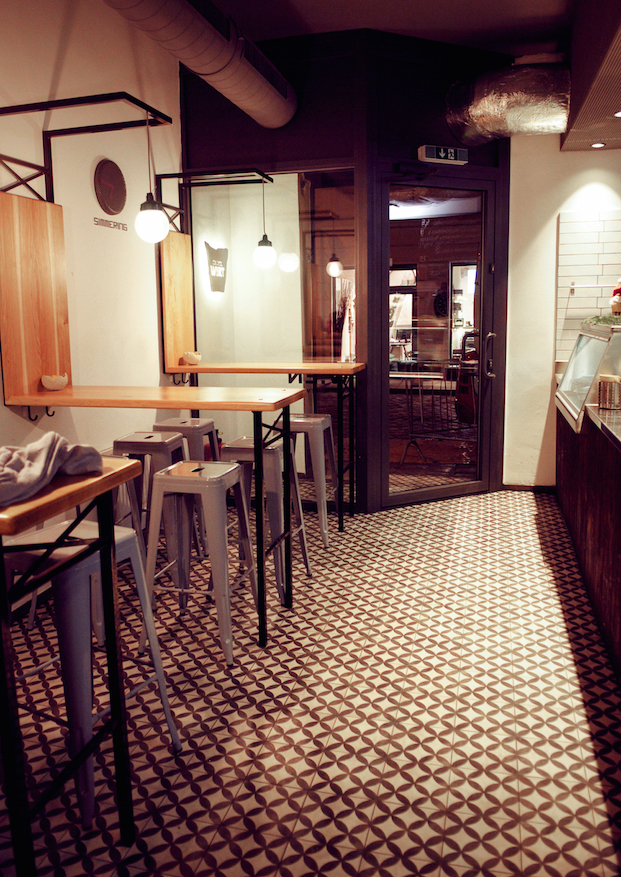 Photo by Dana Daskalova
As I waited, a few enthusiastic customers came and went, all greeted cheerfully by who I later learned was one of the Toms running the place (yes, there are 2 of them). He regretfully explained that they'd run out of the pork box. The pork craving people looked as disappointed as a kid who turns up to his favourite chocolate store to find it replaced by a organic supermarket.
When Tom came over for a chat, he had the look of a man who had been slammed all day, but loved every second of it.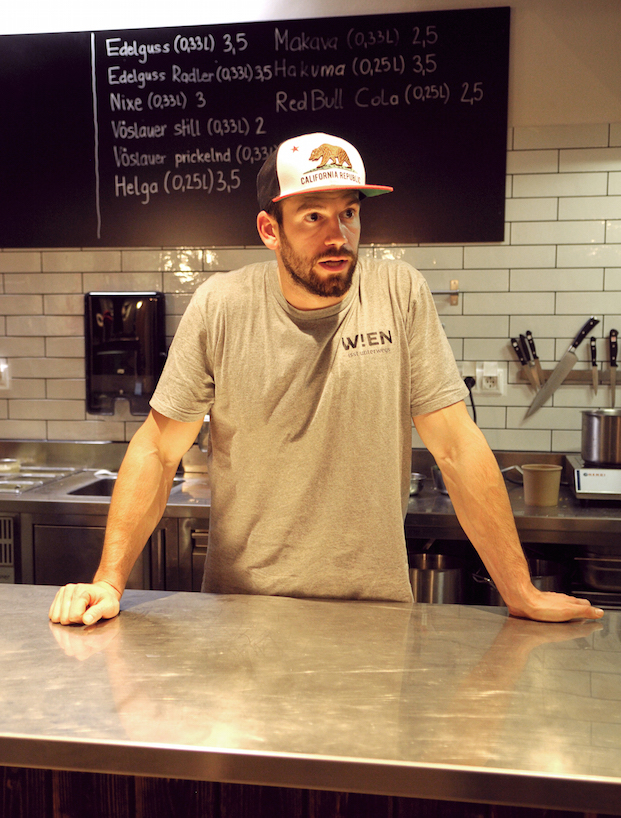 Photo by Dana Daskalova
We talked about the interior of the place. It's got the bare, practical look of a take-away eatery, but is spruced up with a few personal touches thrown in that reveal the tongue-in-cheek nature of the lads: three clocks, ironically labelled – "Simmering", "Grinzing" and "Meidling" – all showing the same time. The two lads met at these places in Vienna back in the day they were serving in the fire brigade. A reclaimed barn door to the toilets and panelling from the same barn lining the bar, highlight the slow and relaxed nature of the place.

Photo by Dana Daskalova
This is slow food all served up with the convenience of takeaway food, Tom explains. He also ensures us that all of the ingredients are sourced regionally. While Schachtelwirt serves up food we are all familiar with, the delivery is what makes it stand out.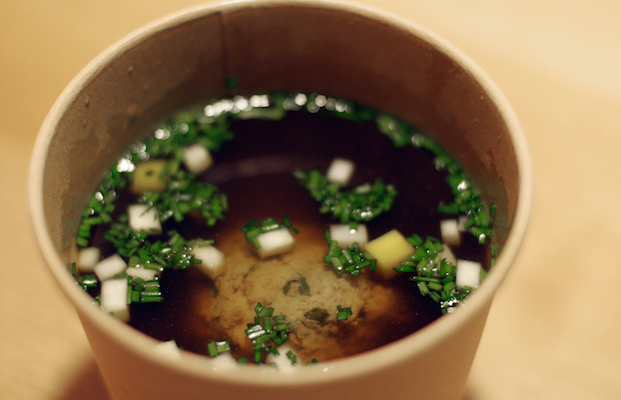 Photo by Dana Daskalova
The cutlery and boxes – or the, Schachtel – in which the food is served is all bio-degradable, because, wrapped tightly in the concept of this place is the team's goal to minimise their impact on the world. To that end, there are no freezers at Schachtelwirt, meaning they only prepare what they can store.
Tom is up at 6am everyday shopping, picking up meat from Hödl – the last butcher in Vienna still slaughtering their own meat. Like we said, everything is done here slow and Austrian.
In front of us on our table we have pork crackling, which I would struggle to differentiate in a blind taste test with my mum's famous version, a Leberknödel Rindsuppe, which is perfect for warming the cockles, and a Käsespätzle (soft egg noodles covered in melted cheese). The spätzle is part of the constantly changing menu, worked out every Monday to suit the season. And while the cheesy-ness was not as great as the smell, it was still very wholesome and Boris Becker lecker (meaning tastey, you foreigners).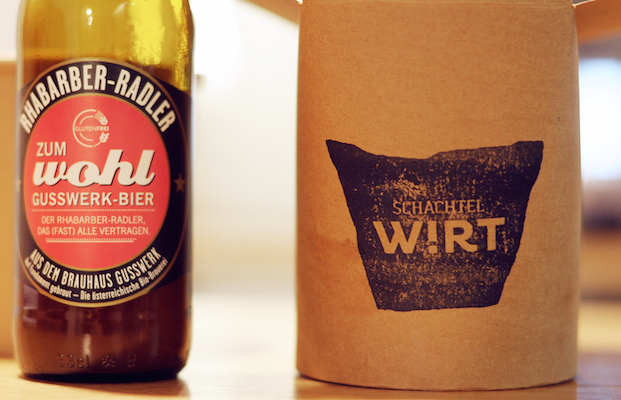 Photo by Dana Daskalova
Looking around at the other customers, I realise one is reading – this slaps my initial assumption that this was just a place for a quick bite at lunch in the face. Tom was right – this is 'slow food' and some people take that shit seriously. You should have seen the length of the book – it could have been the Bible. Perhaps it was. Nothing wrong with enjoying a bit of scripture and God with your Käsespätzle. Anyway, the food was heavenly.
And the food silence was golden. When Tom asked us that one obvious question – 'how is it?'— we replied – 'can't answer, too busy eating?'

Photo by Dana Daskalova
Anyhow – yes, this would be the perfect place to stop for a quick Austrian lunch, and the food and service easily compares, and somewhat exceeds, any of the other Austrian Gasthäuser around town, but once the lunch rush is over, it's still a good place to pop in for a quiet box to yourself, or to enjoy with a couple of friends just like in the good old days when eating was an event taken seriously, and done slowly.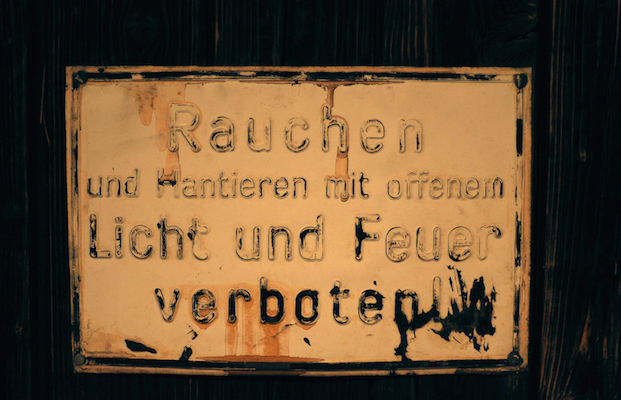 Photo by Dana Daskalova