Vienna's not all classical music and sweet like it used to be. To get a better look at what the living, kicking city is like today, check out the Vienna-based electro-rock band, Johannes Sebastian Bass, in their Mozart wigs and regal tailcoats.
So enough with those guides telling you to pay a pile of Euros to see Spanish horses do tricks and trot around in circles. Here's a guide (with a handy map displaying all places mentioned – see below) on how to make the most out of the living and kicking Vienna if you've only got 48 hours to do it.
Orientate quickly
Vienna wraps around itself like a snail's shell, uncoiling itself, starting with the 1st district in the center and counting outwards. Every district is assigned a number and a name which you'll find on all the street signs.
DAY 1
9am: Breakfast at Vienna's bustling market, the Naschmarkt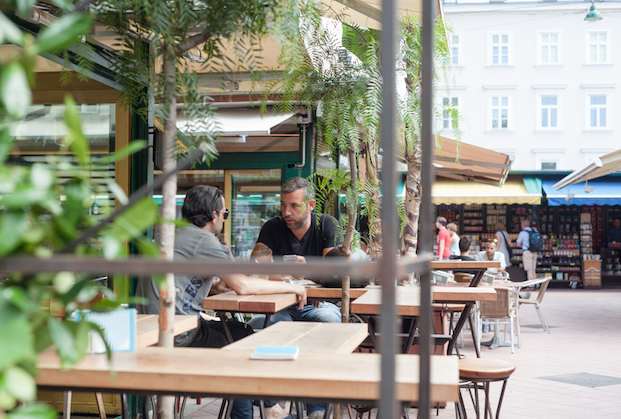 Naschen means snacking, and snacking on a delicious breakfast you will at this colourful, buzzing market. After walking through the artery of food stand yelling out to you, find a seat at one of the streetside cafes that line the neighbouring streetart adorned corridor of the market. If you asked us to recommend one of them, we'd say head to Naschmarkt Deli café. Their Türkisches Frühstück (Turkish breakfast) is da' bomb!
10:30am: Buy a stein, or a Falco vinyl, at Vienna's Nashmarkt fleamarket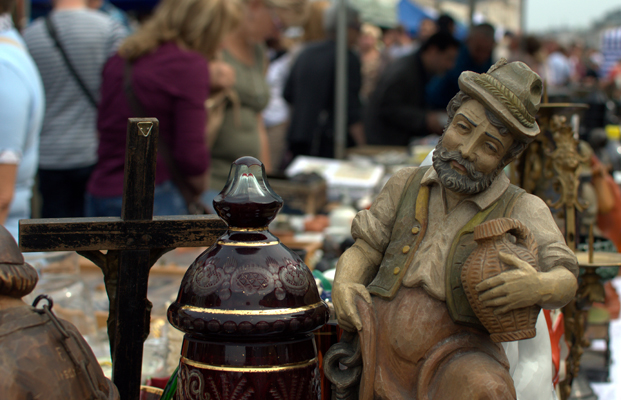 Head into the madness that is the Saturday Naschmarkt flea market where we've seen the likes of used vibrators next to golden framed paintings of the princess Sissi. Not only will you have the chance to buy those 'fun' Alp felt hats with the feathers poking out, you'll also get a fascinating glimpse of Vienna's makeup of people.
Our guide on How to navigate the Naschmarkt Fleamarket is all you'll need.
12pm: Trace the old city with trams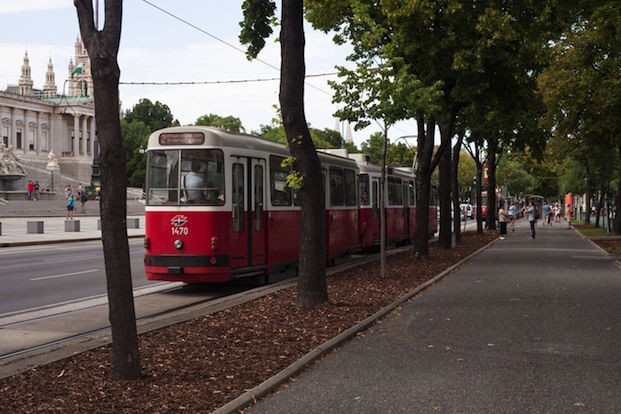 Head to Karlsplatz and wait at the tram station (check out the map above for the exact location). Blow kisses at the tourists leaving on the yellow tourist 'ring tram' as you alight the number 1 tram (direction: Prater Hauptallee) for a fraction of the price. You'll catch the 1, before changing at Schwedenplatz to the 2 tram (direction: Ottakringerstraße) which will bring you full circle back to where you began. If you have the time, be sure to wait for one of the iconic red and white old-timer trams.
As the tram ding-dings and snakes around the boulevard known as the 'Ringstrasse,' old Vienna in all it's charm will pass you by through the window. Some of the city's most smartly-dressed buildings that every tourist guide will tell you need to see, can be seen from this ride (keep your map close so you can point them out). If buildings don't turn you on, pay attention to the people in your (most likely quiet) carriage – this will reveal just as much about the city as the scene through the window. You'll understand what the hell Billy Joel was singing about in this song by the end of the tram ride:
1pm: Wander and linger on cobblestone streets of the old city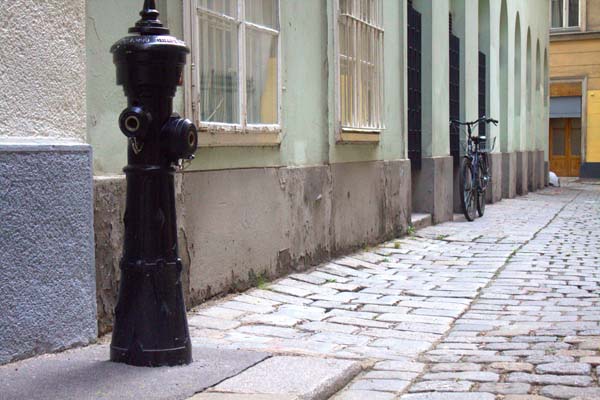 Get off the tram at the stop Burgring. Here is where your ducking and weaving of Vienna's hidden alleyways and courtyards will begin. Use the Ultimate self-guided tour of Vienna's old city center (complete with map) made by us, to lead you through the rarely seen, yet characterful and revealing pockets of Vienna's old city center.
2pm: Lunch at a Würstelstand
The end of the tour will land you at one of Vienna's beloved Würstelstände (sausage stands). These stands are loved like an old joke-telling uncle by the inhabitants of the city – from the range of sausages that come off the grill – especially the mighty cheese-filled Käsekrainer Würstel (watch out, they squirt!) – the can of beer that goes with it, and the characters you're bound to meet at them. The Würstelstand is where politicians and pensioners solve (or cause) the world's problems, where a man with a glass eye has a staring contest with his Würstel, where society's polished elite drink beer out of tin cans alongside those poor bastards doing the polishing, where all sorts of people come together to talk about all the weird, wonderful, wonky and wise of life that swarms around the people of this city, Vienna. Get the point? Good. Moving on.
3:30pm: Mind mutterings at the 'MQ'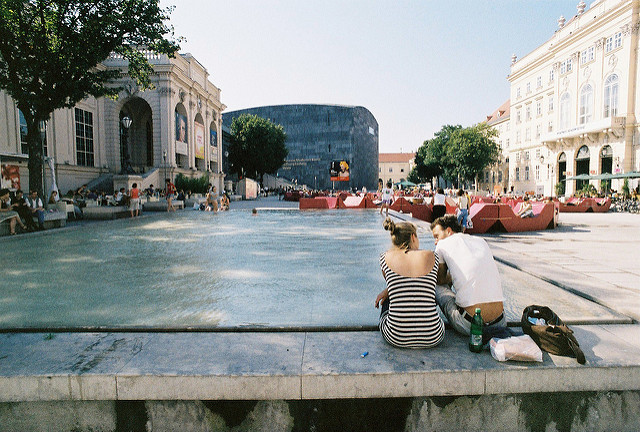 © Museumsquartier
Walk over to the Museumsquartier (nicknamed MQ, for short) take your pick from one of the outstanding art galleries – Leopold Museum for the masters of the Viennese modernist movement (Moser, Schiele or Klimt) or the grey concrete mountain of the MUMOK for modern art that will have your intellect and imagination choking on absurd and abstract pieces (Heimlich manoeuvre advised… just for the fun of it – it won't relieve the choking at all), or there's the impressive Kunsthistorisches Museum (art history museum) out front where ancient art is showcased in ancient golden frames (don't miss the café inside if you choose this one). Or you can say fuck it to culture and art, and enjoy a beer or a Weißer Spritzer (typical drink in Vienna involving white wine being mixed with soda water) in the handsome Café Leopold.
5pm: Shopping in indie boutiques in the hipsterville of Vienna's 7th district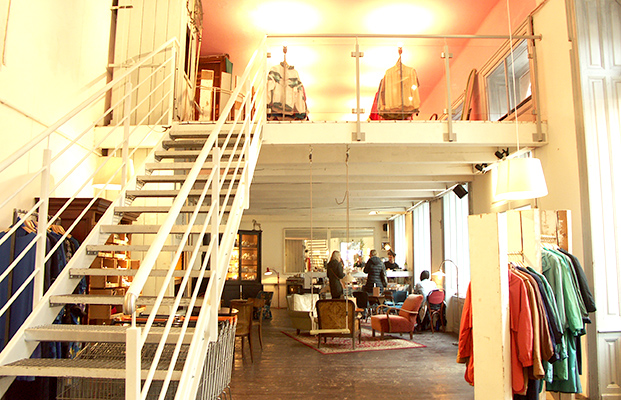 Now your head is full of art, it's time to check out Vienna's indie shopping scene. Stroll through the 7th district where indie boutiques, bars and cafes are a plenty. Some great streets to check out and stroll along are: Kirchengasse, Westbahnstrasse, Neubaugasse and Siebensternstrasse (Pssst – try find the tunnel passing through the peaceful apartment courtyards at Siebensternstrasse 46)
Don't miss: Burggasse24 – vintage clothes and coffee. The location looks like the kind of person wearing the bold and beautiful clothes lining the racks, has lost it with the interior design.
Dinner time: dine in the name of tradition… and Schnitzel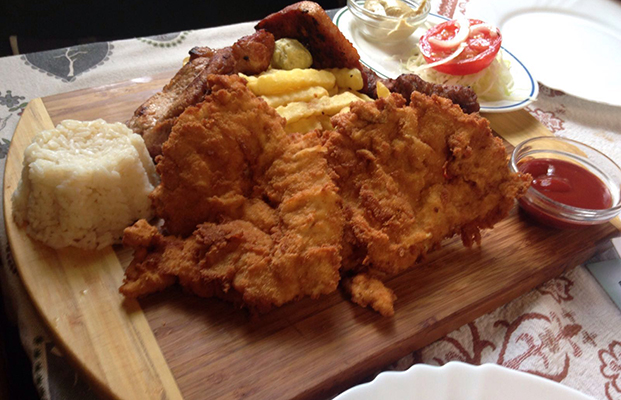 You can't visit Vienna without feasting on their deep-fried culinary hit known as the Schnitzel.
Figlmüller claims to serve up the best in the city – like the hundreds of other Gasthaus' (taverns) wearing the same claim to fame – while if you're close to Gasthaus Nestroy (in the city's 2nd district), or Gasthaus Pöschl (in the 1st district) they serve up a genuine atmosphere with your Schnitzel, plus the homey serve of potato salad on the side.
After Dark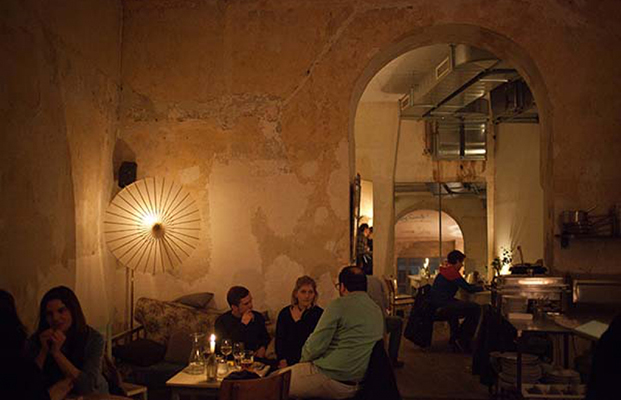 For a warm-up drink or a chilled evening, hit one of the following.
Espresso
Where: Burggasse 57, 1070
Described in a few words: Retro before retro was hip, legendary, beer and coffee and cigarettes, neon sign, beanies or sunglasses inside are socially acceptable
Liebling
Where: Zollergasse 6, 1070
Described in a few words: chairs and tables hanging from wall, never got around to painting the place, hipster haven, mismatching chairs
Alternatively…
you can walk the street of Operngasse which become Margaretenstraße at some point and take your pick of the bars that pop up unexpectedly on this street.
Where to find the parties to lose your pants
Head to the water at the city's central canal where party revellers go out to play. Come as you are to Vienna's grungy veteran of the clubbing scene, the Flex, or if you want something to disappear into until the sun rises, hit the Grelle Forelle up the canal a little further.
For more, check out our After Dark section.
DAY 2
9am, or whenever you wake up: breakfast in a tropical glass house
The Palmenhaus looks exactly how it sounds – palm trees tower above you and your breakfast in the middle of a central European city. Meanwhile, the garden out front will have you conflicted when deciding whether to sit inside or out if it's sunny.
If this isn't what you're looking for, check out our Breakfast section for lots more.
10:30am – Bike the city's canal
Hire one of the city's free city bikes and make your way down to the city's green artery, known as the Donaukanal. From here you can roll along at your own pace in which ever direction you want until you run out of things to look at, or reach Bratislava or Iran. Or you can follow the little red line in our bike tour which begins and ends at the water's edge in front of Schwedenplatz.
BUT one thing you should make a pit stop for is the Hundertwasserhaus, a building and art gallery covered in mosaics and other bold and colourful art by an artist who named himself Hundertwasser (hundred waters) and believed in creating a city that is harmonious with nature, and somewhat mimics its design.
According to good ol' HW: "The straight line leads to the downfall of humanity." We'd love to see this guy in the ring with a modern architect.
Lunch: grab an early lunch in a Heurigen (wine tavern)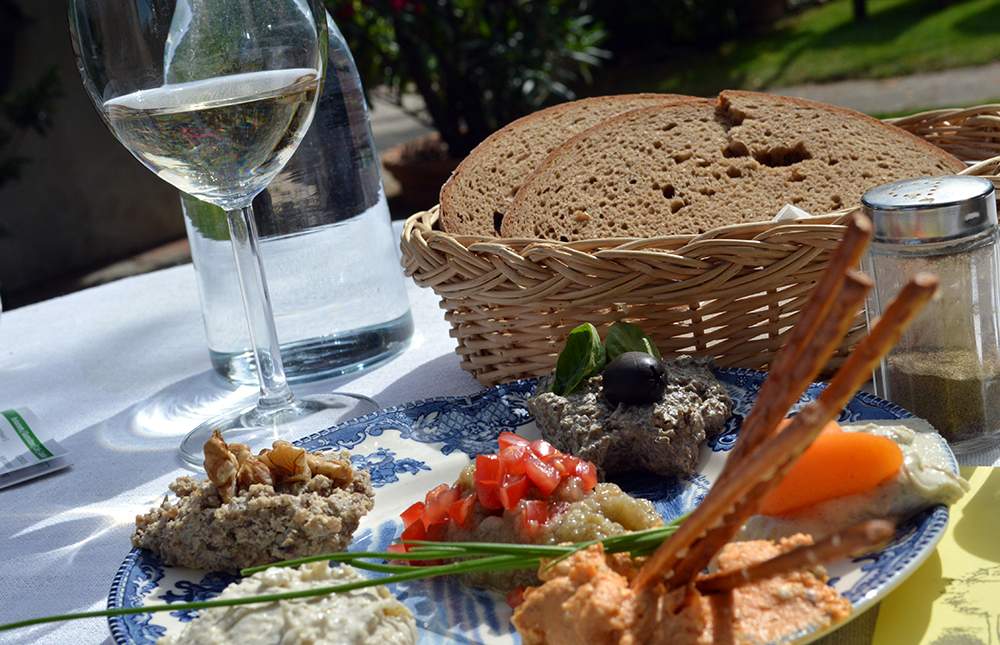 Vienna is one of the few city's in the world with vineyards within the city limits (now we've got that trivial piece of information out of the way) so the Viennese are as fond of their wine taverns (known as Heurigen), as they are of living the good life (in which a lot of time is spent sipping wine). They're also big on sitting down for a big lunch, so when in Rome… or Vienna
While most of the Heurigens are 30 minutes outside of the city center, we'd suggest you hit a modern take on this Viennese institution, Zum Gschupftn Ferdl, or a veteran like the Weinstube Josefstadt, or the Zwölf-Apostelkeller.
Plus: If you can't be bothered delving into the endless possibilities this city has to offer, and don't feel a squirt of guilt being a bad tourist, spending the rest of the day Heurigen hopping is a completely valid Vienna experience. The towns on the fringes of Vienna, Grinzing and Stammersdorf, are two places where you can do that. Check out our Stammersdorf Heurigen tour, here.
Option #2: One of the most beautiful beer gardens in the city is located within your next stop the Prater park. The Schweizerhaus (see map for location) serves up a famous Stelze (pork knuckle) and a good Czech beer in an idyllic setting.
2pm: Jump on the old mighty wheel, and stroll the Prater park
Still with us? Good. Head to the fairground known as the Wurstelprater, which is housed in the largest park in the city, Prater, and jump on the oldest ferris wheel in Europe, the Riesenrad. For an extra fun experience, be sure to ask a random stranger in the carriage with you, "I'm scared of heights, will you hold my hand,' or ' Do you think I would be sucked out the door if I opened it?" Ok, maybe don't ask these things, but be sure to whisper sweet poetry to the city from above.
5pm: Spend a few hours in a Viennese coffeehouse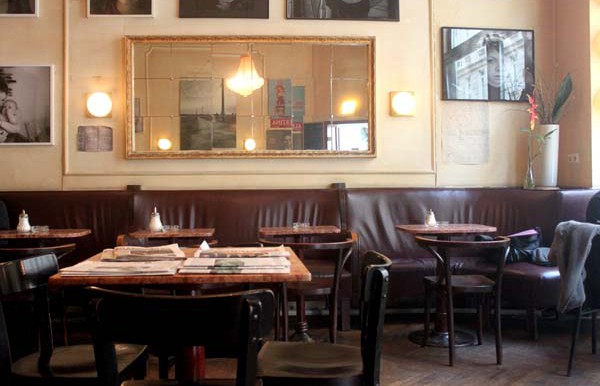 You haven't experienced Vienna unless you've sipped your way through a couple of hours and Melanges (a Viennese version of a Cappuccino) in one of their famous Coffeehouses. Bring a book, write your postcards, people watch or just watch the black and white adorned waiting staff work the tables, serving out that famous rough and dry Viennese charm they're known for. Have a piece of cake… and another… and settle into the idea that no matter how long you sit there, even if you drink only one coffee, nobody will ever bother you. Check out our list here of some of Vienna's best coffeehouses where the locals go, here.
7pm: Dinner – try a place out of Vienna's new and growing dining scene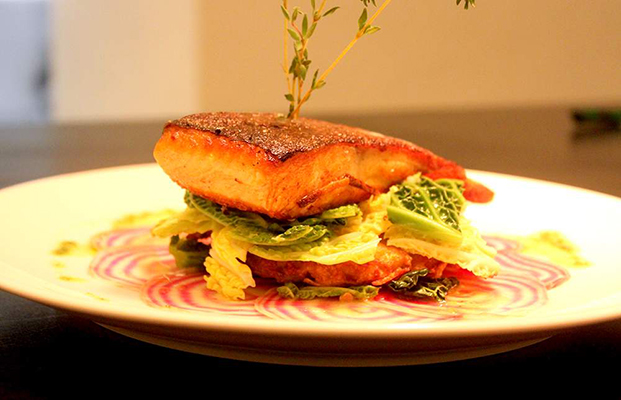 Vienna's going through a second puberty in terms of it's dining scene, with plenty of new places opening up monthly. For some of the new eating spots, check out our 'Eat' section. We guarantee you'll find something you like.
9pm: 3 options for a great night
Option 1: A night at the opera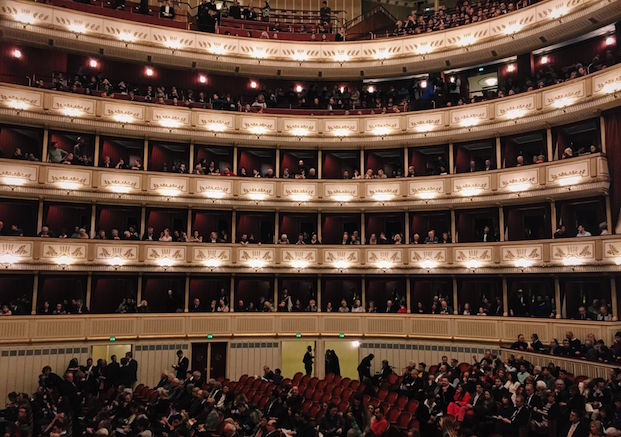 Your trip won't be over until the fat lady sings! get it? Even if you're not into singers with booming voices singing about dying or some other heart ache for a couple of hours, seeing the insides of Vienna's Staatsoper (State Opera House) is one hell of an experience. Be sure to check out the program when you're in town, and if you spontaneously make a last minute decision to go, and are on a budget, queue up for the cheap (as low as 3 €) standing tickets a couple of hours before the performance.
Option 2: Chilled drinks with the locals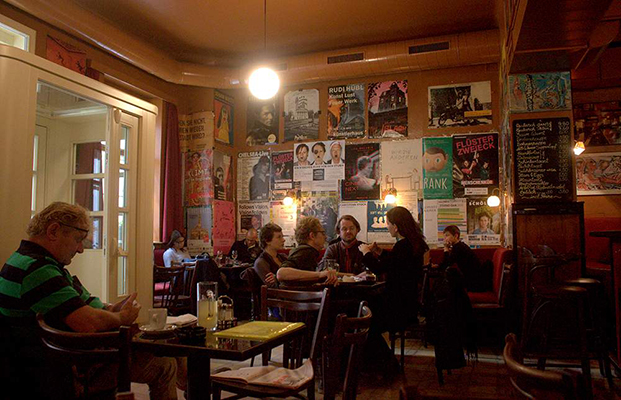 One thing that makes Vienna's coffeehouses special is their split personalities. During the day, they're for library-like-quiet coffee sipping. Meanwhile, after dark they fill with the sound of glass-clinking, spontaneously combusting laughter and conversations swarming around each other that make up an alcohol and anticipation fuelled evening. Our top ten favourites are made up of Kaffee Alt Wien, and the intimate Kleines café (Franziskanerpl. 3, 1010). That's it. As these two places have the character of 10.
Option 3: Opera and drinking!