Street food isn't new in Vienna, however the street food movement involving fancy food trucks hawking global gourmet cuisine is.
While the food truck revolution has been happening for a while now globally, it has gained so much momentum in Vienna during 2015, that this year saw the first major event dedicated to street food – The Street Kitchen Food Market. Nowdays mobile eateries can be found at all kind of events in the city, from markets to festivals.
We asked street food pro, and editor of the Street Food Vienna website, Klaus, about how Vienna's street food scene has exploded this summer, and for a list of the top 5 food trucks you should seek out around the city.
Vienna Würstelstand (VW): Give us a brief summary on how Vienna's street food scene looks today, and how it has grown in 2015.
Street food pro, Klaus (Klaus): Well, actually, the concept of street food has pretty much properly arrived in Vienna for the first time this year. The scene really boomed in spring. A mention should be made about the Artisan Food Collective, which holds a small street food market called the Diners Food Club, which is like a 'street food clubbing' concept – this was a milestone in the street food scene.
There was also for the first time this year, The Street Kitchen Food Market, which was held in the Marx Halle. This was the first major street food market event in Vienna, which turned out to draw a lot of success and attention.
VW: What are the newest food trucks that have started up in Vienna this year?
Klaus: New on the scene this year are the Gourmet Nomaden, who are offering street food from all over the world. Also new late in the season is the Neni food truck, which serves up the Israeli dishes which Neni is already known for. Then there's the newest food truck, the Pull and Eat Food Truck, with their delicious sandwiches.

© Pull and Eat
We asked Klaus to rate the top 5 street food vendors currently floating around Vienna. The following list is what he came up with. We've also included a few words from the creators behind the mobile meal trucks:
Wrapstars
Klaus: The food truck pioneers with their magnificent wraps are still right up there, in my opinion.
Wrapstars say: It all started in the summer of 2011 with the urge to create something of our own. We came to understand that our bodies are made from the food we eat, but it can be challenging to eat properly in everyday life. We took this problem personally and Wrapstars was born. We offer premium wraps, which are actually more like burritos. They are made with love, in vegetarian or slow-roasted organic meat variations, topped with salsa and sauces made from scratch every day. Everything is made with the best ingredients we can find, and strictly adheres to our 'no bullshit' code of honor.
Wrapstars favourite fellow food trucks: Monsieur Yong, Linzer Hot Dog Stand near WUK, Kor-Fc.
The Hy-Kitchen
Klaus: Monica, the creator behind Hy kitchen, has many people excited about her pulled pork burgers.
dongdong fan
Klaus: this crowd brings lovely Chinese street food to the streets of Vienna on their tricycle.
dongdong fan says: The Chinese word play of dongdong fan can be translated as 'food on the move'. The food we serve up on the street is moved around the city on a tricycle bike that was manufactured in Shanghai, and shipped to Vienna. The concept and the kitchen equipment were developed by Katharina Idam and Nora Sahr. It's not just the Chinese kitchen we're passionate about, but also how food is cooked on the street in China and how informal social centers spontaneously pop up. We want to transport this multi-sensory experience of street eating to Vienna. In hidden, unexpected places, guests and pedestrians can be surprised by Weina Zhao's personal adaptations of typical Chinese street food.
Gourmet Nomaden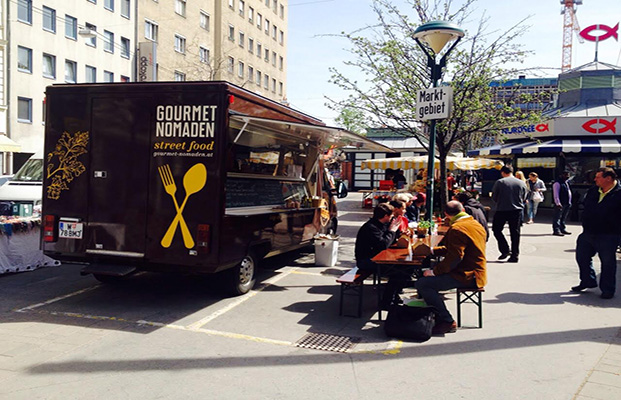 Klaus: The Gourmet Nomaden are serving up all sorts of delicious cuisine, from all over the world. The Gourmet Nomaden says: Since 2014, Gourmet Nomaden tours around Vienna and serves up the finest, fairly-priced street food from all around the world. Various tasty curries, stews, sandwiches and salads are cooked fresh, without any food additives or preservatives, and will no doubt enchant you and your day.
In addition, Gourmet Nomaden serves the best coffee for miles around, prepared naturally in a genuine portafilter coffee machine.
Check their route and their daily varying menus on their Facebook page.
Millie the Vintage Caravan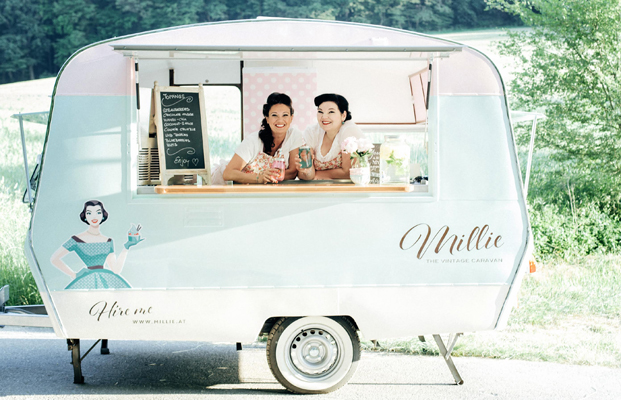 Klaus: This vintage caravan food truck is the sweetest food truck from Vienna, serving up yummy frozen yoghurt and waffles, in style.
Millie says: My business partner, Isabella, has been running her own cake pop business for quite a while and had toyed with the idea of buying a food truck for some time. Last November (2014), she asked me to join her in business. It seemed a completely logical next step for a wedding planner and bridal headpiece designer, so of course I accepted.
We liked the look of vintage Mr. Whippy ice cream vans and decided to get one of those.We finally found Millie in Kassel, Germany, in February. While we weren't always 100 percent sure what we were going to sell, we knew from the start that our food truck would be mint coloured and have a personality and a name. You have to concentrate on the important things, after all. Millie was completely overhauled inside and out, bottom to roof, and has been on the road with freshly made frozen yoghurt and our homemade toppings since the end of April.
Millie's favourite fellow food trucks: A Speedy Potato (pssst, Millie and this guy are secretly in love! But don't tell!), Wrapstars, Pull & Eat