Few venture out to this far away land (which is an exactly 10 minute metro ride from Stephansplatz, by the way) which would explain why few know the lively, colourful life happening out there. Here are 10 (+2) of our favourite things of Favoriten, Vienna's 10th district.
1. Nature escape at the Wienerberg
Are you aware that there's a park in Vienna that'll actually have you forget you're in a city? The 117 hectares of the Wienerberg transports you into nature as soon as you step off the tram and into the huge green area with a large lake plonked in the middle of it. The result of an urban planning competition in the 80s, the Wienerberg will steal you away from the city stress, with its miles of nature paths, its lake for pondering, and its small patches of forest to escape into. The only other wanderers you'll encounter are the joggers, the locals walking their dogs and occasional sunbathers, or the fishermen by the lake. One day we saw somebody riding a horse. Another day, we spotted a family of pheasants in the bushes. There is even the rare European swamp turtle doing backstroke in the lake. We told you, it's the closest place you'll get to being out in the wild, without leaving the city.
2. The best Krapfen at Groissböck
Where: Neilreichgasse 96–98, 1110
A coffeehouse legend is located in the 10th district. The original Groissböck – now a coffeehouse chain – is serving up what has been officially named several years in a row, the best Krapfen in Wien. The Austrian donut-like pastry filled with apricot jam, or custard will have you sitting there with icing sugar all over your face as you sip at your coffee.
The place also has a charm to it, with the antique coffee roasting machines on display.
3. The bazaar of the Viktor-Adler-Markt
This is the closest you're going to find to a bazaar in Vienna, a city where other markets are orderly and neat. This place is one of our favourite spots in the 10th, and we feel like we leave Vienna every time we're visiting. If you've travelled to far-off exotic places in the world, you'll know that the prerequisites of a real market requires a little grit, a little multicultural colour, pigeons humping on stand roofs. The Viktor-Adler-Markt ticks all of these boxes – the mélange of languages being spoken, the turban wearing men selling sunglasses, the smell of incense and spices, the shearing sound of the meat bansaw, the mix of Balkan, Turkish, Oriental, Asian and Austrian. The real highlight of the Viktor-Adler-Markt is the "pop-up" farmer's market on the neighbouring street, Leibnizgasse. This place is loud and crowded, but here you'll find the real deals on produce. An eclectic mix of Turkish housewives and restaurant chefs jostle for the best deal.
4. Favoritenstraße
Favoritenstraße is one buzzing street, and a boisterous one by Vienna standards. Here you'll find almost all big brand chain stores squeezed in amongst the eclectic mix of small, international, cheap and questionable quality shops serving the multicultural community living in the district. The street is loud, and it seems most people are just hanging around for the sake of it with not much to do. It smells like Kebab and Turkish bakeries up and down it. Just sitting in a café, or on a bench, and becoming one with the spectacle of this street will have you experiencing a different side to Vienna.
5. Zum Alten Beisl
Where: Rotenhofgasse 4, 1100
Opening times: TUE–SAT: 10am–10pm, SUN–MON: closed
Amongst the multicultural vibe that dominates Vienna's 10th district, Austrian gems are still very present. We asked around a lot to find this one. We wanted a good old Viennese restaurant and literally found it – Zum Alten Beisl means "to the old pub".
The inside is modest, but cosy and has that homey feel of a typical Beisl. A quiet garden is hiding out the back between buildings. These guys know what they're doing when it comes to great, hearty Viennese dishes. The lunch menu costs 7,90€ and includes soup and a main dish, which is typically a variation of Schnitzel or steak.
However, heroes of this place can be found in the section of the menu entitled Wiener G'schichten (Viennese stories), where Tafelspitz, Wiener Gulasch and the adventurous roast kidney can be found. Yep, we said kidney, and it also comes deep-fried. Bon Appetit!
6. Tichy
Where: Reumannplatz 13, 1100
Opening times: Daily: 10am–11pm
These guys not only invented the famous Eis-Marillen-Knödel (an ice cream version of the Austrian apricot dumpling dish), but it also seems they invented the time machine. Their legendary ice cream creations (like Spaghetti Eis), or the simple ice cream in a cone or cup, is served by motherly waitresses in white and pink striped dresses, the types that will smile gently when you're nice but let you know when you're in the wrong. There always seems to be a queue on sunny days so you better know your order before you're next in line. If you can't make up your minds just go with classics like chocolate or hazelnut. The atmosphere at Tichy transports you to a world in which a scoop of ice cream makes everything better.
7. Amalienbad
Where: Reumannplatz 23, 1100
Opening times: check website for details
There is a unique swimming pool in the 10th district that goes by the name Amalienbad. It's housed in the classy looking building – complete with clock tower – overlooking Reumannplatz. Inside, a true 20th century design masterpiece can be found, where wood meets ceramics, and beautiful mosaics. There is an odd symmetry playing out here everywhere you look that reminds us of a Wes Anderson movie set. It gets pretty crowded in the evening, but during the daytime, you can go for a relatively peaceful swim in the beauty that is the Amalienbad.
8. Böhmischer Prater – Vienna's forgotten fun fair
On the far side of town, in a park upon a hill you'll find the abandoned little brother of Vienna's lunatic fun fair that is the Wurstelprater. The Böhmischer Prater (Bohemian Prater) amusement park dates back to the 1880's and it doesn't seem to have evolved much since. And that's really the great thing: you don't even have to spend money on a single ride for an incredible journey back in time. If you're looking for thrill and adventure, don't expect to find it here. But if you appreciate anachronistic Viennese weirdness in the form of a forgotten fairground, come hither and you shall find bliss.
We recommend: Give the ferris wheel a spin, even though you won't find it on many postcards and it seems a bit small and awkward, it offers a stunning 360° view of the city.
9. Konya Etli Ekmek for pide that would make any Nine proud
Where: Leibnizgasse 15, 1100
Opening times: Daily 8am–12am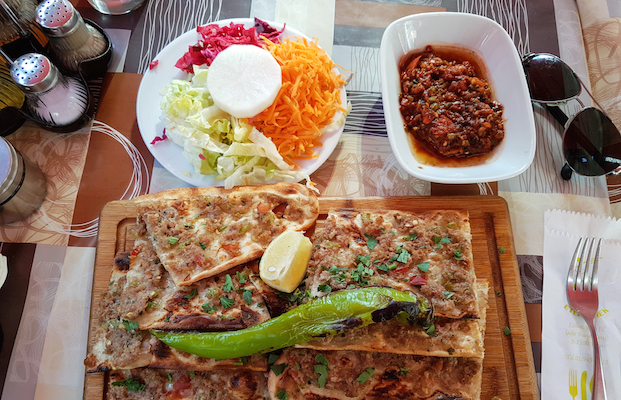 This authentic Turkish restaurant located near Reumannplatz is specialised in pide, the Turkish equivalent of pizza. Pide is more crunchy and spicy than its Italian fast food cousin and just as addictive. Apart from really good (if heavy and fatty) food, Konya Etli Ekmek also serves a super refreshing home-made ayran, the salty Turkish yoghurt drink.
10. A new face of Vienna: Sonnwendviertel
Just beyond the Hauptbahnhof (main train station), a long neglected neighbourhood (or Grätzel) is undergoing a complete makeover. The Sonnwendviertel, as the four blocks are called, not only features several new publicly-funded housing projects, but it also offers a few gastronomic highlights, like two 24/7 hotel bars and a restaurant pavillon in a big new park run by the Viennese bakery chain, Der Mann.
11. It's the capital of the Kebab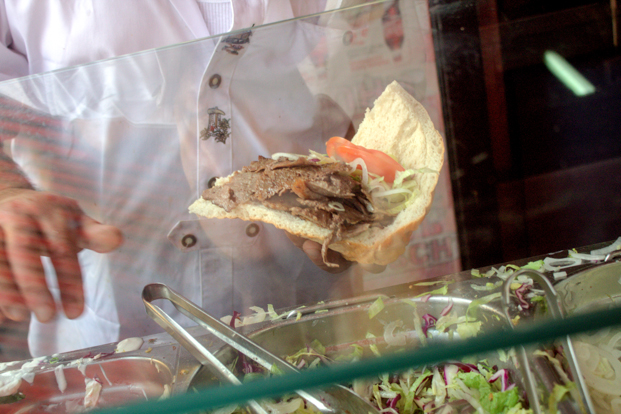 We did our very best to try and find it – the one Kebab shop that's worth being called the very best one in Favoriten, a district with the biggest per capita consumption of the Turkish sandwich this side of the Balkans (according to a self directed study that exclusively took place in Kebab joints in Favoriten).
We asked schoolboys who immediately launched into a long and sophisticated discussion as they evaluated the kebab of the restaurants in the vicinity of their school. We asked old people sitting in a park playing backgammon, we asked Kebab shop owners to name their best competitors. Opinions differed, the deadline came close and we still couldn't narrow it down without a margin of error way too large to avoid a shitstorm in our social media that could eventually amount to civil war. We'll yield for now and simply state that some of the best (and the cheapest) Kebab in the city can be had in the 10th district.
12. Ankerbrot Fabrik
One of our favourite upcycled pieces of architecture lies in the 10th district – the Ankerbrot Fabrik. Its former life was as a bread factory for the Anker bakery chain, however, this building's soul within its red brick walls has been reborn into a multipurpose space, as a cultural hub, an event venue, and a place where social change, and community coherence is fought for. Delicious international dishes can be munched on at the social project restaurant from Caritas, Magda's Kantine, or you can cook your own with a bunch of strangers by participating in the Community cooking sessions every week, which carries the cool concept to bring people together through the universal love for food. Meanwhile, there's creativity being thrown about all over the place as it hosts several creative companies, and also two very impressive contemporary art and photography galleries, like the Galerie Hiliger and Ostlicht Galerie. If you consider yourself a culture vulture and haven't ventured out to the Brotfabrik, you should really be questioning your dedication to the arts.
Get content that you love in your inbox!
Hey, look at this similar content we made for you