Hmm… there's no better time than the present for… CAKE! – If you also find yourself this very moment drooling and daydreaming about sweet, sweet desserts, you better get down to the café Strudls – here you'll find some of the tastiest, and prettiest, tarts and strudels in the city!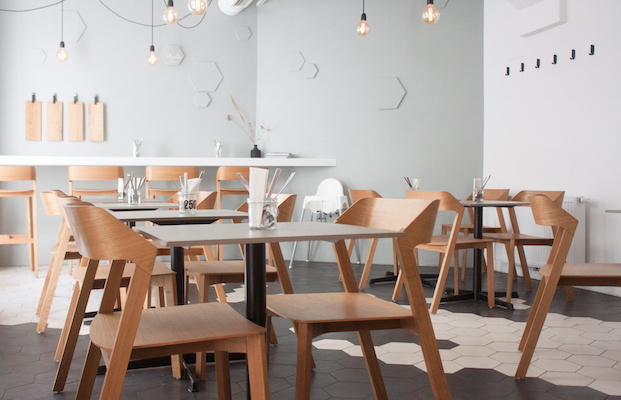 Walking down Siebensterngasse, it's hard not to notice the elegant simplicity of the (relatively) new sweet spot, Strudls; the 'sweet' refers to both the café's looks, and the magical things it's doing with desserts – just in case you missed the witty phrasing we slipped in there. Strudls' sign bears its name in a handwriting which is framed by a hexagon – a shape that can be found throughout the café, from furniture to floor tiles.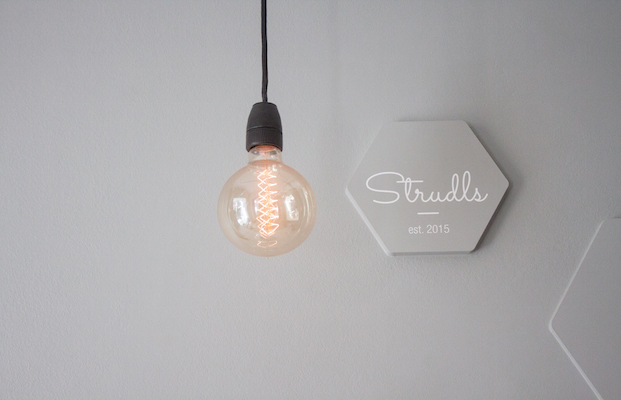 As we enter the small café our eyes are caught, and stick, to the variety of strudels and tarts lined up behind a well-lit cabinet, displaying nothing else but these sweet delights.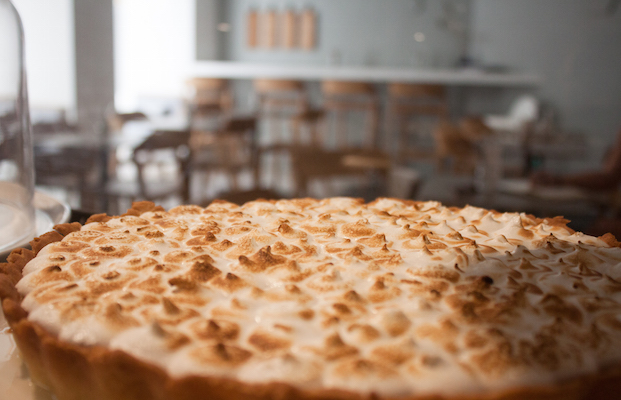 Sitting down with the owner, Peter Duxler, I congratulate him, saying it's hard to find a café that focuses on serving high quality cakes.
"Strudels," Peter interrupts, "strudels and tarts," he repeats, as if the term 'cake' was offensively too general for his café's specific speciality. Now that I think about it, when asking 5,50€ for a strudel they surely create some big expectations.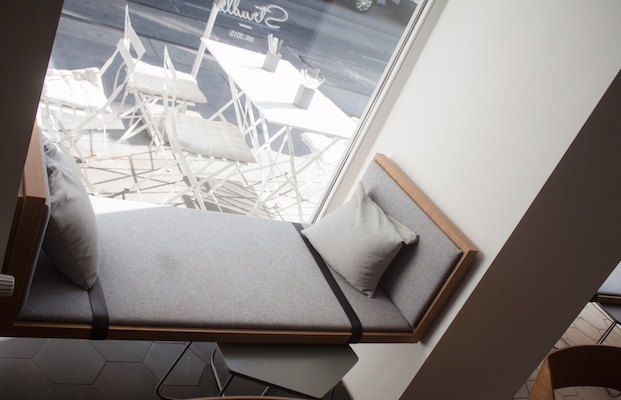 As we dig our spoons into the crunchy and fruity strudel, he tells us a story which explains the inspiration behind his decision to dedicate his passion project to the Austrian dessert, the strudel.
He tells us how back in the 70ies, as a child in Hungary, he had seen somebody making fresh strudel in their back garden, and how this image has lingered with him ever since, along with the idea that one day he'd open his own place dedicated to this fruity dessert.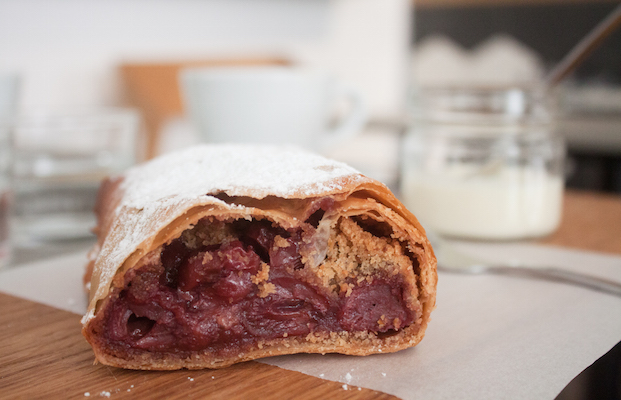 The pastry chef, who creates each strudel individually out the back of the café, came up with the café's unique creation which sits alongside the traditional version in the display cabinet: 
Strudls' in-house creation adds a special twist to this all-time favourite as it is served in the form of a pastry nest filled with fresh fruit and nuts. Served beautifully on a wooden board, a small mason jar filled with an exquisite home-made vanilla sauce accompanies it.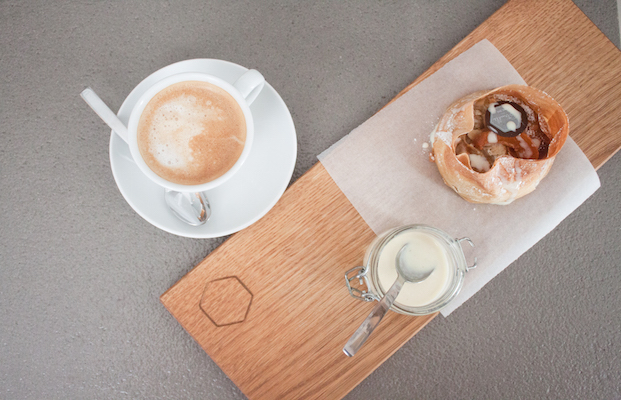 We can't believe it's taken this long in the land of strudel for somebody to open a café dedicated to the pastry, which is typically most Austrian Omas' signature kitchen creation.
The selection of tarts – including a cheesecake and a lemon tart that deserve a minute of silence after every bite – are just as outstanding in flavour as the strudels.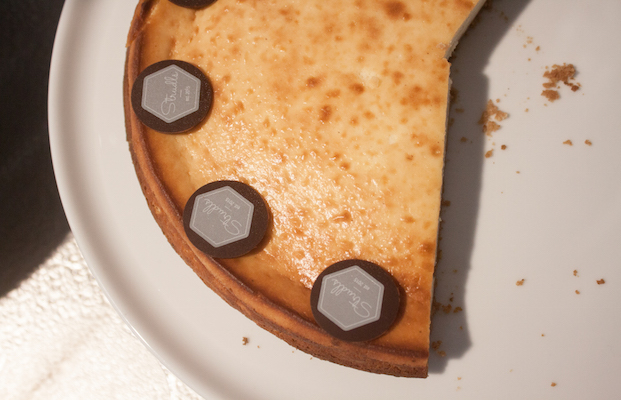 And while the emphasis here is on tarts and strudels, they also have a vast array of breakfast options, including American-style pancakes, Bircher Muesli and some original breakfast sets. There's also a daily lunch menu that you'll find up on the wall, scrolled across some baking paper.
So, next time those uncontrollable cravings for good old sweets kick in, head towards the hexagon riddled café serving up strudel with a twist. Just be sure not to call them cakes. 😉