Passing their brand of Instagram senf for this week is Philipp Kurz, the man in the yellow rain jacket
Instagram: www.instagram.com/dortundhier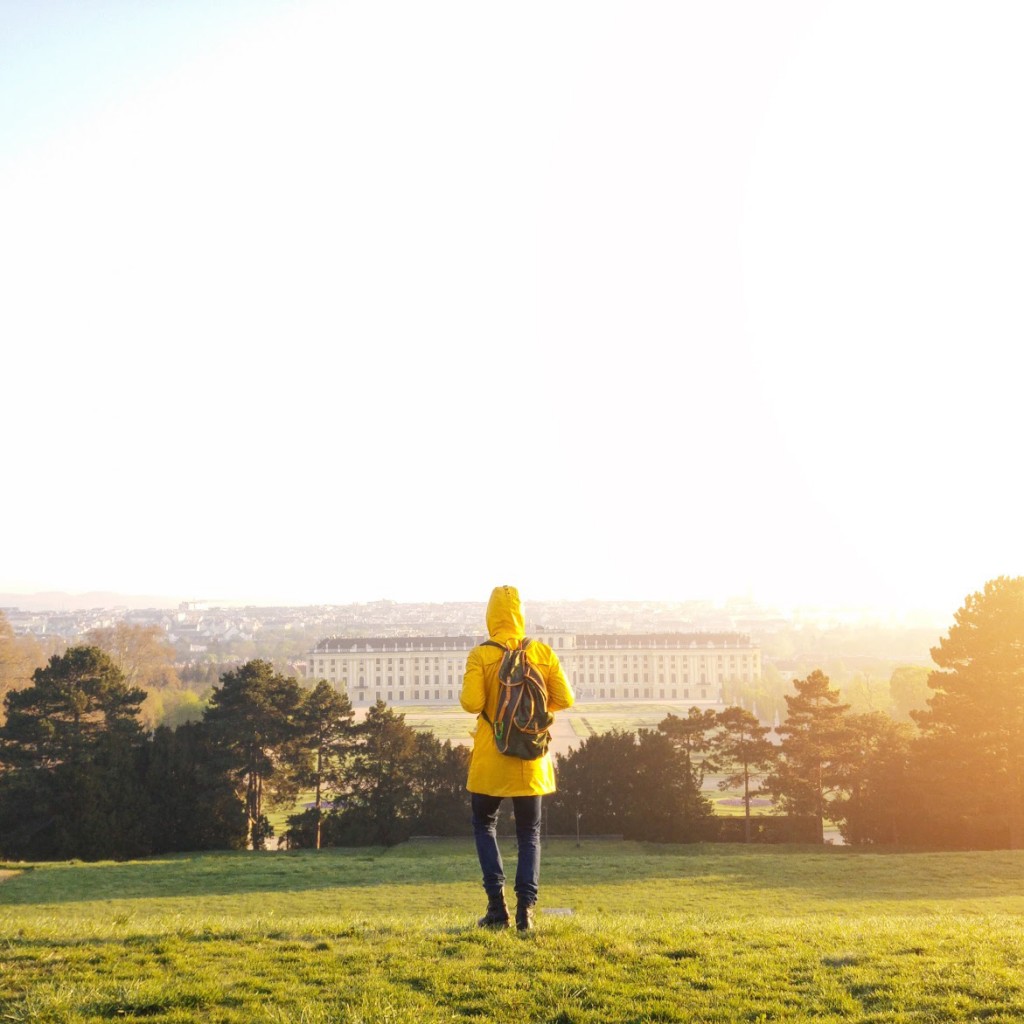 "A palace that looks like a giant cake with yellow sugar icing, a little bit of sparkling mist in the air and the rising golden sun that slowly brings life back to the imperial city of Vienna. That's always worth getting up for."
1. Where are you from originally?
From a small town in South-Western Germany.
2. How did you end up in Vienna?
Well, that actually took some detours. In 2010, I decided to attend a language school on a little Pacific island 12.000 kilometres away, called O'ahu. Somehow a Viennese girl had the same idea. And as life goes, after a few trips between Vienna and my German hometown, not only the city became my queen of hearts, but so did this girl.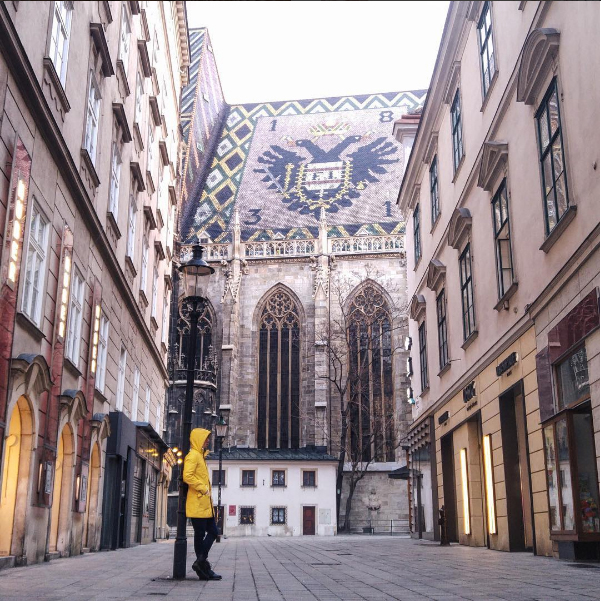 "My favourite view of the St. Stephan's Cathedral from the Churhausgasse on an early Saturday morning, while a few street lights kill the symmetry."
3. Describe your style in 9 words or less.
Self-timed. Warm. Empty. Yellow. Adventurous. Humorous.
4. What do you photograph with?
Usually with my Samsung NX300M or LG G4 and my ROLLEI Compact Traveller No. 1 tripod. Especially the latter piece of equipment is important when I'm taking my self-portraits.
5. How do you retouch and edit your photos?
First of all, I add a bit of a filter in VSCO – usually C3 or G2. Then I'm typically increasing the sharpness and the contrast slightly. And to spice everything up a bit , I am highlighting my yellow coat and some other striking points in the picture with the brush tool in Snapseed.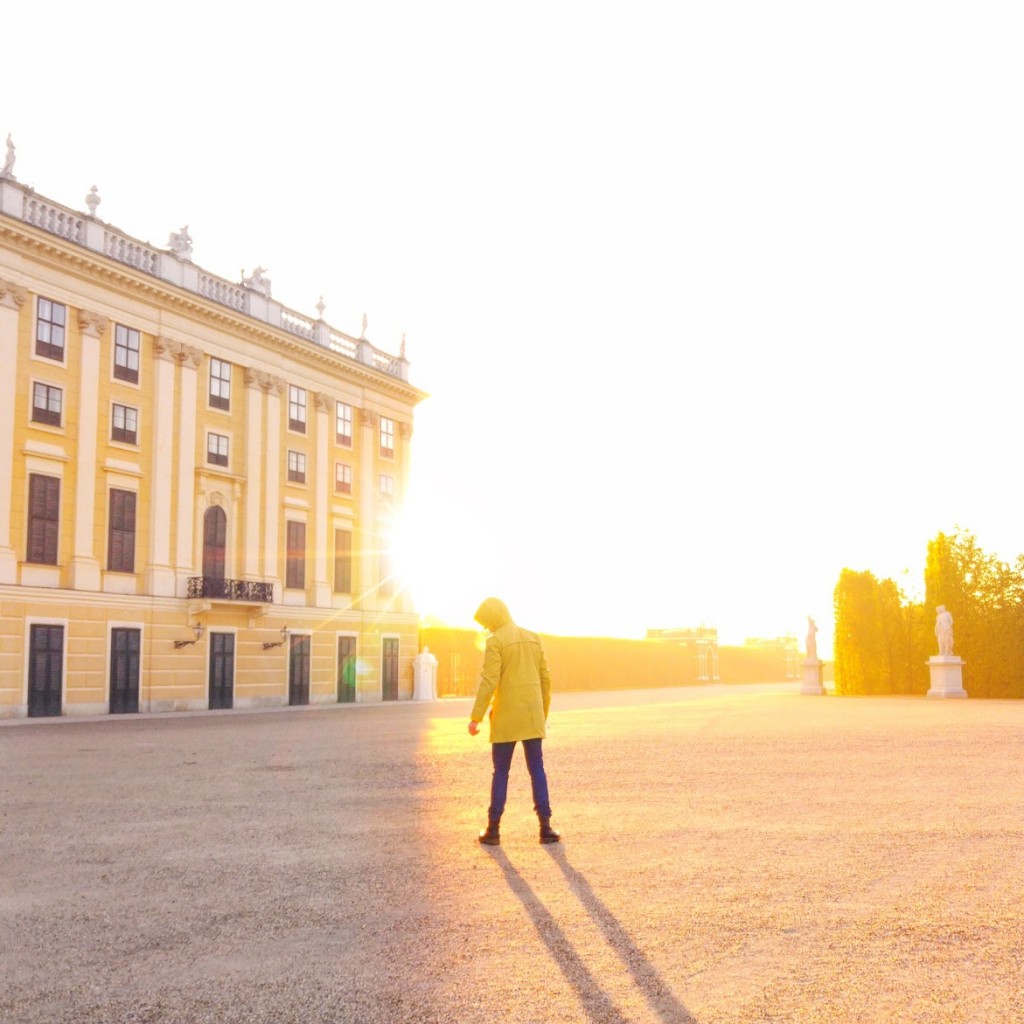 "Daybreak is when the horizon breaks the sun in two so that the golden light spills all over the city's rooftops."
6. Name three of your favourite locations and/or subjects to shoot.
Actually, for me it's quite hard to even name one favourite location. I would say that photography is all about the light, bout the colour, angle and brightness. It can change everything.
Locations can have a totally different character during dawn, midday or dusk. That's why I am often revisiting locations during different seasons and times of day. But I'd say my favourite subject to shoot is urban, or natural landscapes with some human elements in them.
7. Tell us in 3 sentences how Instagram changed how you see the world.
Photography has changed the way I am exploring the world around me, as I have started to constantly see the beautiful, little things around me that weren't visible to me before. It has also made me a lot more curious and adventurous. There are a lot of unique places that would have remained hidden to me without this new 'engine of curiosity.'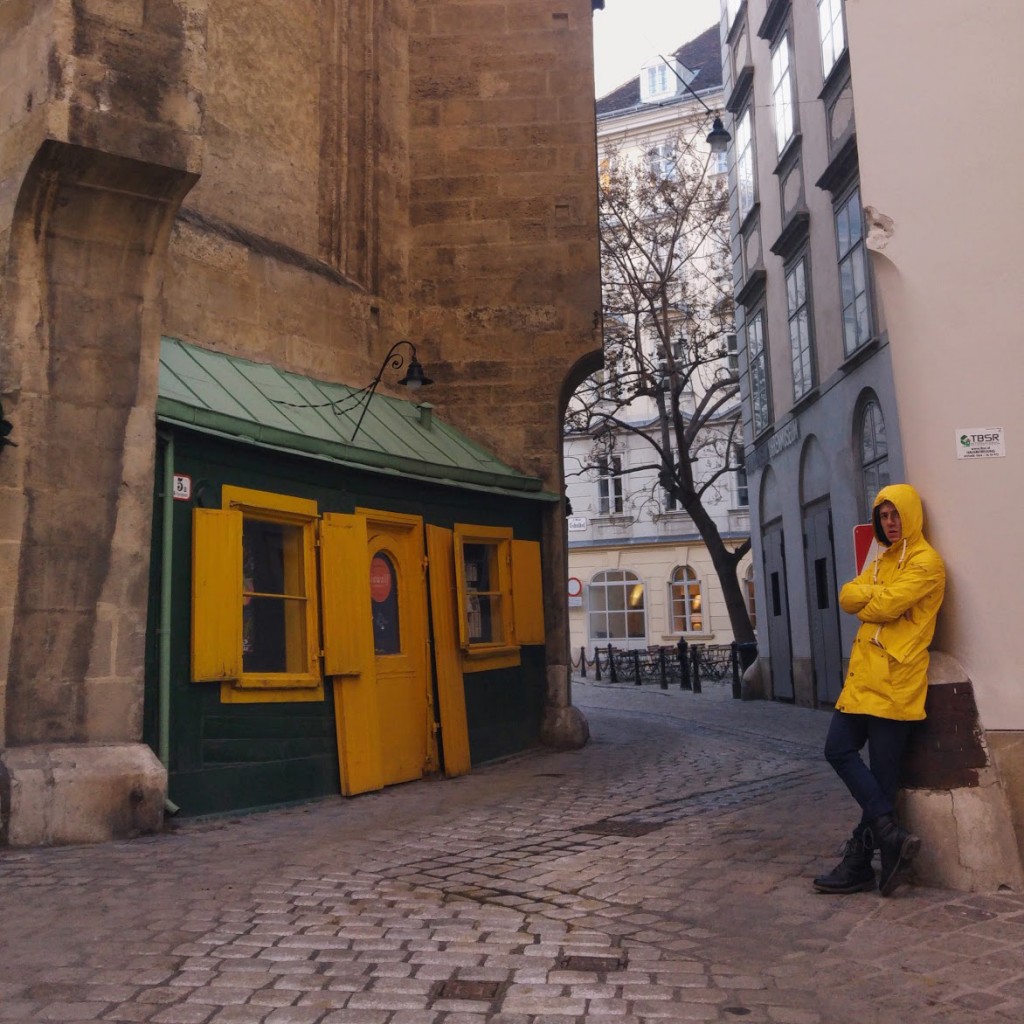 "Everybody leaves a mark always and everywhere ­– sometimes little, sometimes big. We shape our urban and natural environments, day by day, without even noticing it. Like the horse carriages that have polished these cobblestones in the Seitzergasse alley."
8. Who's your favourite Instagram artist you're currently following?
Definitely @wallyfound. Incredibly colourful and playful pictures starring Waldo from the comics "Where is Waldo?". His pictures always brighten my day!
9. What's your favourite place in Vienna?
I would say the Donaukanal (Danube Canal) on warm summer evenings.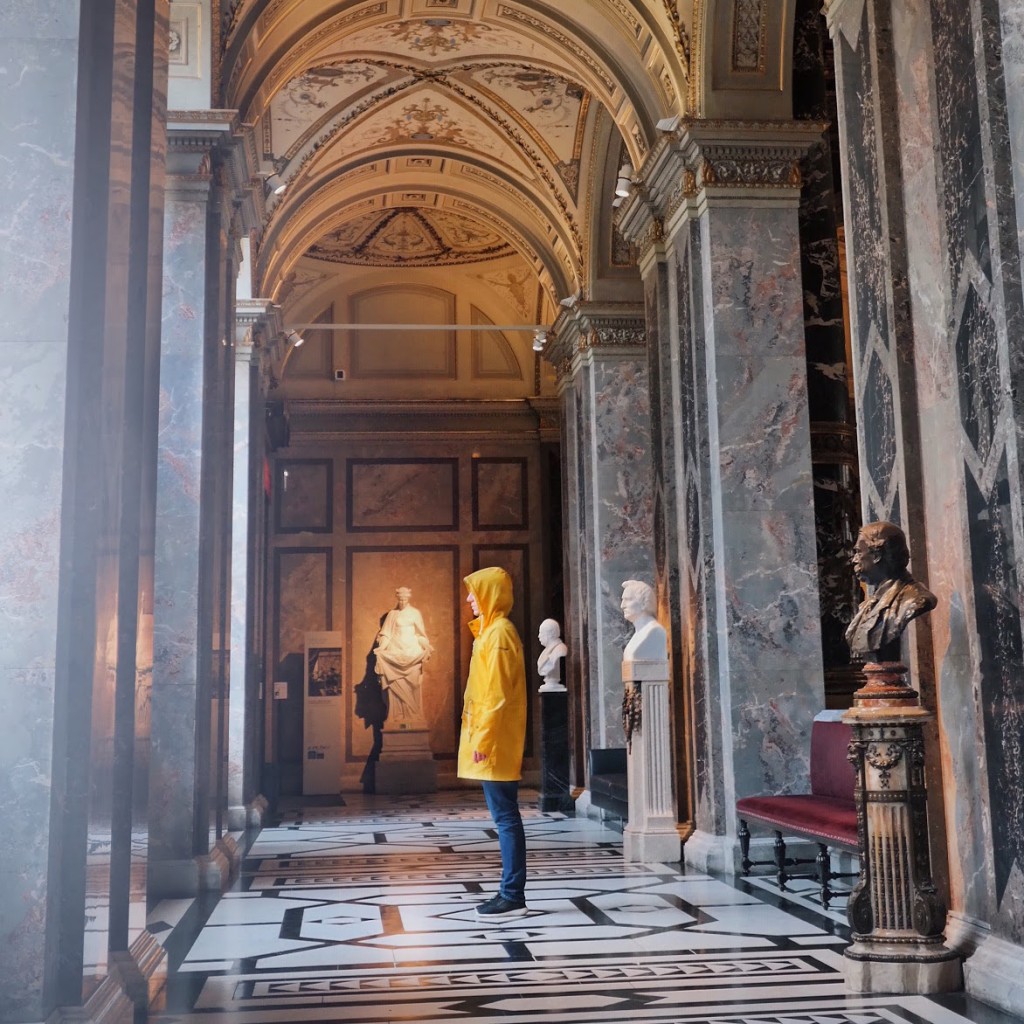 "That marble dude on the right made me feel a little awkward as he kept staring at me. Perhaps because I was wearing my yellow rain jacket inside Vienna's Museum of Art & History. Well, some people wear their sunglasses at night, I wear my rain jacket indoors. Deal with it, marble guy!"
10. What does Vienna mean to you?
For me, Vienna is not just a city. It's also not just a lot of bricks and mortar put together, nor just 1.9 million people living in a space of 395 square kilometres. It's a microcosm with its own constantly developing personality and soul, shaped by all the different people living in it. Something that you can't really put into words, but simply feel. Something that always inspires me.
11. Anything else you want to add?
Do I get a Würstel now?