Vienna has its own way of doing things when it comes to, well, most things, probably. This includes how they throw a party, including that one special night of the year when people show the old year the finger and look to the new, fresh, better-looking one: Silvester! (That's what New Years Eve is called in Vienna).
Here's 11 instructions on how to have a real authentic Viennese New Year's Eve house party.
1. Shop for the Vienna party essentials
Grab a tote bag and go find the closest supermarket to buy the essential ingredients to any Vienna NYE party:
+ Manner Fisch-Biskotten (this is some kind of lucky charm for the Viennese)
+ Soletti (it's not a party without soletti these salty pretzel sticks)
+ Prosecco aka. sparkling wine (you better grab more than one bottle)
+ chocolate gold coins (lucky charm and chocolate in one – win!)
+ items needed for Austrian fortune-telling tradition, Bleigießen (lead-pouring) – this tradtion is explained below
+ ingredients for the Gulaschsuppe (don't forget the Semmeln aka. bread rolls) (see tip #4 for more details)
+ Party hats and a bucket load of glitter!
2. Stop on your way home and tour the New Year's Eve trail of the Silvesterpfad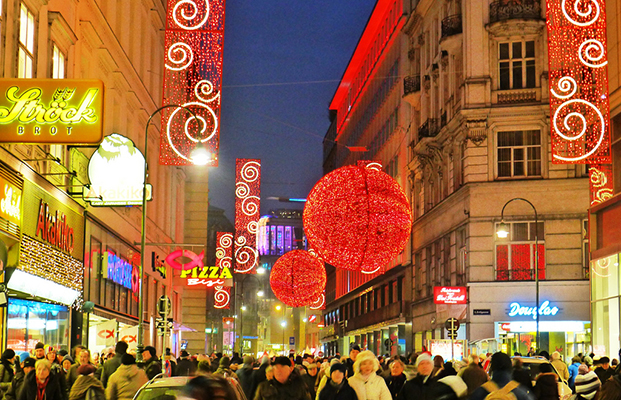 © Sean Léonard Polo / flickr
This is a warm-up option, but highly recommended. Before bunkering down and partying with your group of friends at home, tour Vienna's NYE trail known as the Silvesterpfad. From 2pm on the 31st December, a conga line of huts selling drinks and food, and stages blasting out bands and DJs, are scattered around the old city center. There's also a waltz dancing lesson on the Graben, and a live screening of the Johann Strauß' opera "Die Fledermaus."
This gets very crowded with drunk people of all sorts as the night sets in, but it makes for a great warm-up option earlier on.
3. Have your Glücksbringer gifts ready to give to your guests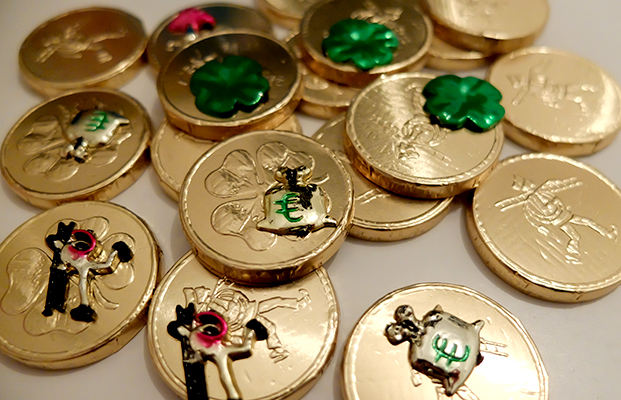 As soon as the Christmas celebrations are finally over, small stands start popping up out of nowhere on every corner around the city selling what are known as Glücksbringer. These little toys are gifted around New Years to make sure the next year starts off right, and with luck. There's a Schwein (pig), a Kleeblatt (four-leaf-clover), a Rauchfangkehrer (chimney sweeper), a Fliegenpilz (flying mushroom), a Hufeisen (horseshoe), a Marienkäfer (ladybug) and Münze (coin). Don't ask us what the meaning behind those items are, we have to clue and don't get it ourselves.
4. Prepare the Gulaschsuppe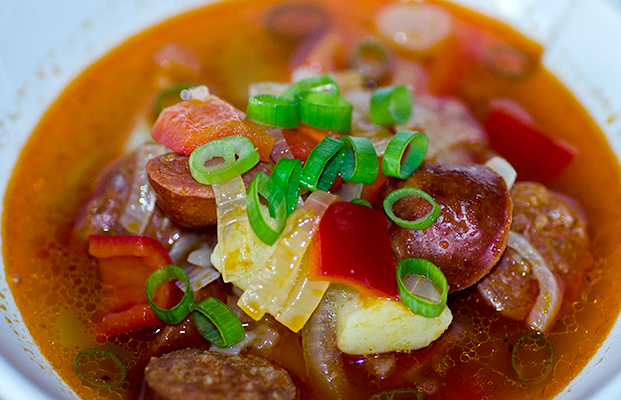 © Stefan Muth / flickr
Gulaschsuppe is essential to a Viennese NYE party. This heart-warming dish is to be served after midnight, when all the fireworks have stopped and the sparkling wine bottles only hold a few last drops. People settle back down, get comfy … and naturally, get hungry. The dish is more of a soup than a normal Gulasch. It also has some potatoes and Würstel (sausage) or paprika floating in it. Here's a great recipe to try. And make sure you're stocked up on Semmeln (bread rolls) to serve with it!
5. Get the party started and greet your guests, Viennese-style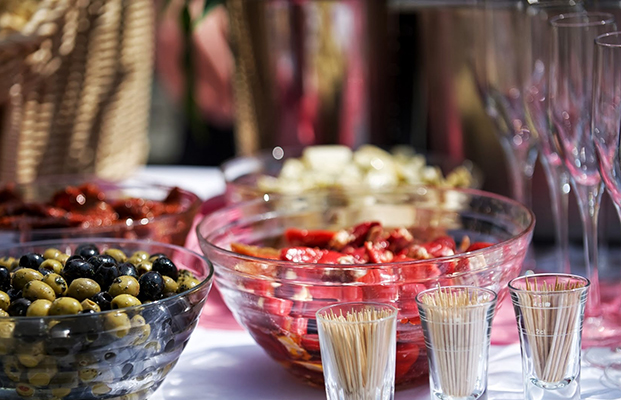 Well, you know how to party, so we don't need to advise you on this one as you know the drill – Say hello to your guests, make them feel at home, open some wine, put on some funky music.
Wish your friends a "Guten Rutsch" (which translates to something like "Slide well into to the new year") upon arrival, but only before midnight. After the clock strikes 12, the proper way to wish each other a new year is – "Frohes neues Jahr".
6. Predict your 2017 with some Bleigießen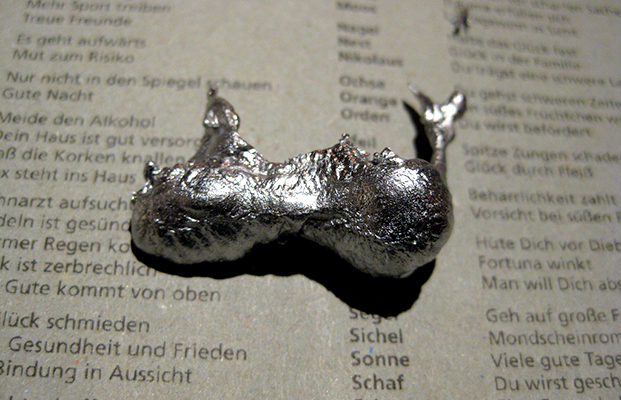 © Antonio Zugaldia / flickr
Get your Viennese voodoo on. The Austrian tradition, Bleigießen (lead melting), is a fun way of fortune-telling what the future is going to bring in the new year. You can buy a Bleigießen kit in shops around the city. The tradition goes as follows: each person is given a lead item and they melt it in a spoon over a candle and then pour it into a bowl of cold water. The form and the accompanying shadow of the weird lead figure will determine your year. But don't take it too seriously, it really is just a fun party game. And wash your hands after. You know, toxic and stuff.
7. Watch "Mundl" and "Dinner for One" on ORF2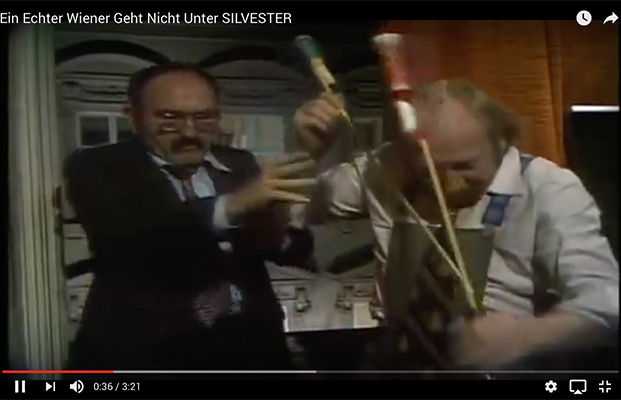 © Youtube
While it's getting later and the year will soon be over, turn on the TV to ORF2. Each year, the special New Year's favourites Mundl (a TV show called "Ein echter Wiener geht nicht unter", are broadcast. Mundl will give you a great glimpse into Viennese life in the late 70s at 10:30pm, followed by the sweet short film, "Dinner for one."
8. Get ready for the big countdown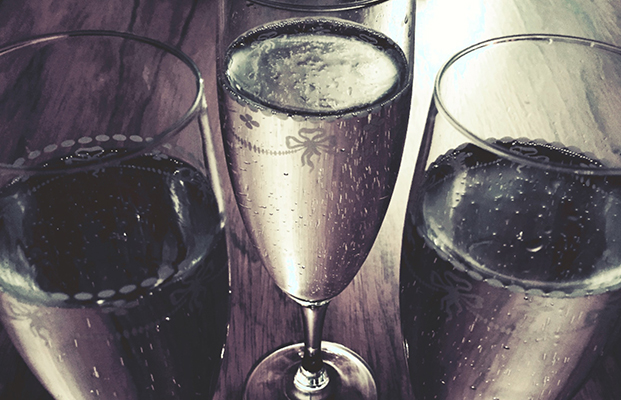 Open the sparkling wine, open the windows. Leave the TV running for the countdown, and if you've got a rooftop, get on it!
9. Welcome in 2017 with lots of noise, kissing and hugging!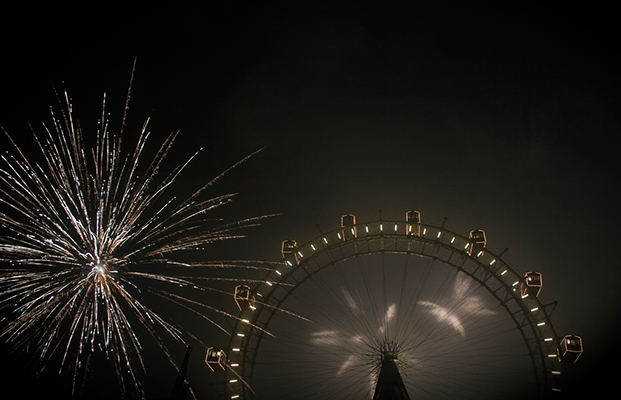 © Andreas Perhab / flickr
At 12am, like everywhere in the world, there's plenty of hugging and kissing happening, while people also wish each other a "Gutes neues Jahr!", "Schönes neues Jahr!" or "Frohes neues Jahr!" while shooting back glasses of Prosecco (sparkling wine). Outside, you'll hear fireworks coming from every corner of the city, with many people usually letting off their own fireworks, even from their apartment windows.
If you and your guests are in the mood, you can also go for a stroll around the block or hit the nearest bridge or square to get a better view.
By the way, it's also a tradition that the Austrian mobile networks black out as the whole country tries to reach their loved ones and wish them a happy new year (we're not joking, it happens every year).
10. Waltz into the new year
If you've seen enough exploding sparkling lights in the sky, get back to the party and find somebody to do the traditional midnight waltz with. ORF will be playing the Donauwalzer, the traditional song to accompany the first moments of the new year which the Viennese lit to waltz into. They'll also show the "Pummerin" – the huge-as-fuck bell inside Stephansdom, that only rings on very special occasions.
11. Serve the Gulaschsuppe
Time to refuel to keep the party going. Reheat the Gulaschsuppe and serve. Switch to some hard liquor, open a good wine and party until the early hours of the morning!