Every day seems to bring the advent of a new social networking platform, and with it another pull into our virtual, online social life, and away from the physical, real world social interaction. Flirtation and dating happens in a Tinder swipe, instagramming is accepted table manners, facebook liking has people walking into poles on the street.
But the birth of the Austrian start-up, BuddyMe, may see a pull in the other direction, as the online social networking platform aims to bring people together in the offline world. And it's now spreading it's tentacles in Vienna.
Like most inventions, BuddyMe was born from a problem experienced by its inventor.
"Tom had the idea about a year and a half ago – as an avid biker, he was looking for like-minded people to go mountain biking with," Andi, one half of the BuddyMe founding team explains. He's talking about Tom, the mastermind and programmer behind BuddyMe.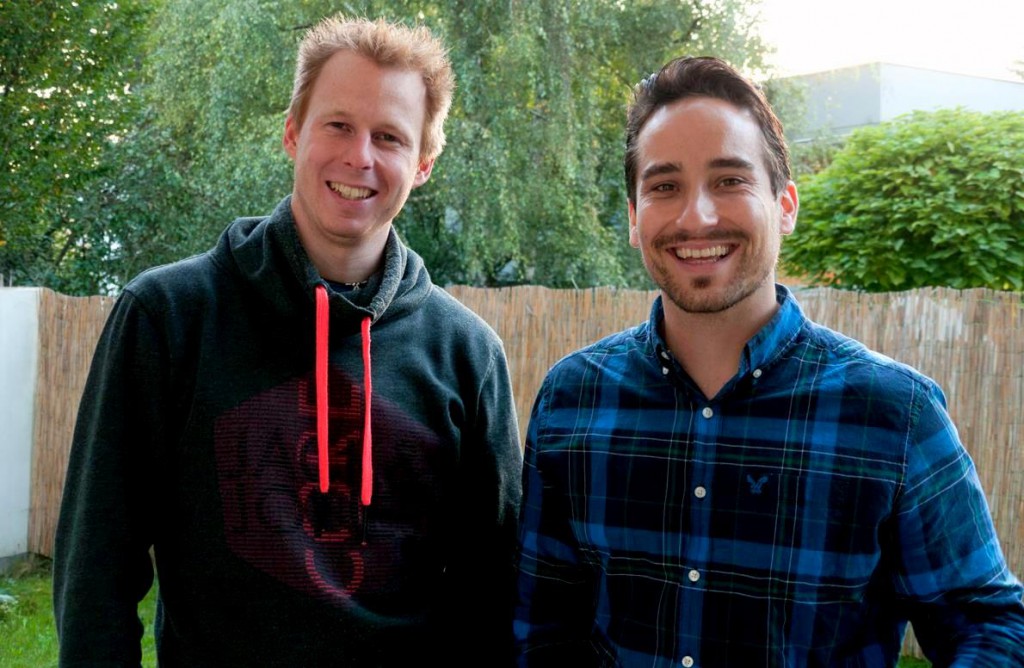 © BuddyMe
What began as a student project for the long-time buddies, Andi and Tom, has developed into an established platform used by hundreds of active members in Graz and Linz (their hometowns) and secured thousands of investor's Euros. And now BuddyMe is moving to Vienna.
BuddyMe's unique mojo as a social network is that it creates communities of a specific crowd of people: active people, sporty individuals seeking others who share their passion, people looking to make friends outside of their bubble, fresh arrivals in a new city wanting to make… buddys.
"It's different to the other social media platforms as the people who join the communities on BuddyMe all want to get active with others offline." Unlike a Facebook group or a Facebook event which generates mass engagement online, but sees a small percentage of this converting to people attending events, or getting together offline, BuddyMe is experiencing high attendance rates at its community's events, according to Andi.
"BuddyMe doesn't seek to sign up a mass of members, yet rather members that are interactive and engage with the communities on their pinwall – so it's more about the platform inspiring cool stuff happening between members in the real world, rather than online." BuddyMe broken down: Without an App, BuddyMe is web-based, operating in the simplest for for a social network – a pinboard.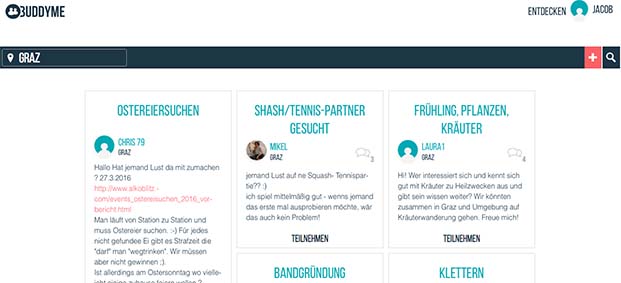 As a user, you simply log in (for free) and a pinwall will pop-up with pinned events, calls to action from communities – all are sorted based on your location and with the most recent pins at the top. You can also easily pin your own event.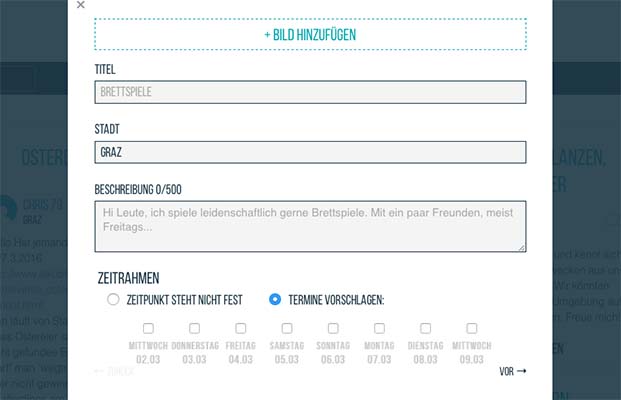 On our BuddyMe pinwall, pins mostly related to Graz-based events show up, as the BuddyMe community is not there yet in Vienna. However, the drive to change this is now happening, according to Andi. "It's already possible to use BuddBuddyMeyMe in any city in the world, but after our success in Graz and Linz, we're now looking to encourage the building of communities in Vienna."
After you've signed up to attend an event or join a community, you can chat with the others in the BuddyMe community and check out their profiles, on which trustworthiness and attendance reliability is rewarded with penguins and badges.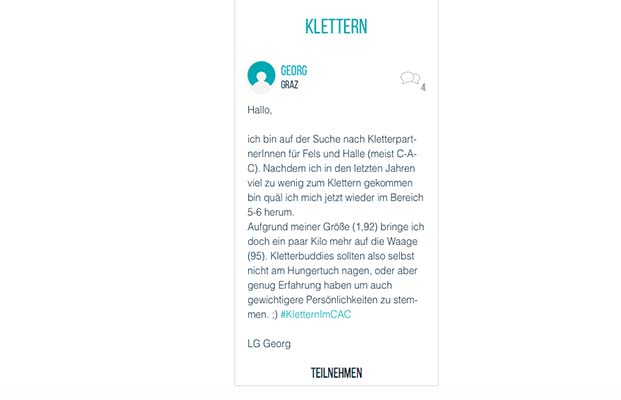 "Obviously, one of the biggest challenges of having a platform which encourages strangers to get together is proofing each member, and giving people a sense of security that the people they're meeting are not weirdos – that's why it's important to chat within the communities before you attend. We're developing more and more ways to reassure members, and also ways of measuring members in terms of their reliability in attending the events they sign up for."
As to be expected, BuddyMe is already a hit amongst Erasmus students, Expats and sporting clubs in the platform's birth cities of Graz and Linz. However, the sport communities are resulting in groups that Andi likens to Vereine (clubs), without the fees and commitment strings attached.
"The idea of BuddyMe also draws on the Austrian's long-held love for joining clubs – it's a modern version which caters to the still existing desire for people to join clubs, yet also their reluctance to pay club fees, and commit to regular meetings,' explains Andi. "Sport seems to be the most popular social catalyst on BuddyMe so far – climbers, bikers, runners training for marathons – but interestingly, activities like board game meets and cinema evenings are also very popular."
Rock climbing halls and other sport clubs and companies in Vienna are already jumping on board the BuddyMe train. Meanwhile, Tom and Andi's vision of BuddyMe is both big and bold.
"The biggest problem in bigger cities for a lot of the people living there is urban loneliness – with BuddyMe, we hope to encourage people in different cities around the world to reach out to one another and realise that there are like-minded people out there, and that they're not alone, but part of various different communities."