This is the story of Goldkehlchen cider – the first ever cider produced from 100% Austrian apples. What a time to be alive!
With almost 170.000 tonnes of apples harvested per year, Austria is kind of an apple country. We bake them into cakes, make juice out of them; hell! we have so many of them we even drown them at children's parties while everybody laughs. But there's a new thing made of apples – at least it's new to Austria – and that is apple cider.
The bubbly, alcoholic drink that is the perfect companion for any summer's day and night. As chance would have it, the two people bringing the cider to Austria are actually called (we shit you not!) Adam and Eve. This story should practically write itself.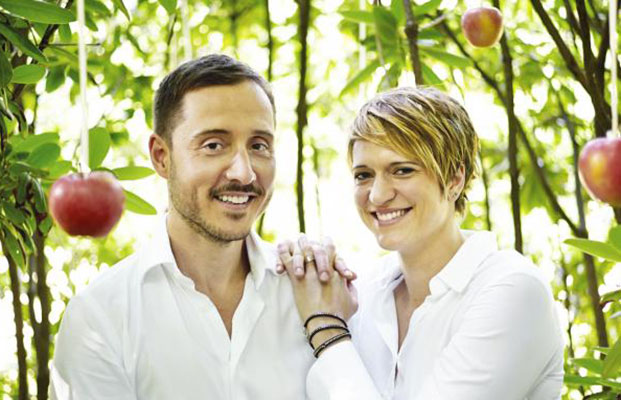 And it does, because it's a pretty sweet one. In 2003, Adam Ernst and Eva Wildsperger met in Australia. There, cider was already big in business, so they enjoyed of few of them and meanwhile, asked themselves the following: if Austria is a land of world-class apples, why doesn't Austria produce world-class apple cider?
The idea somehow stuck to them, but got buried in the daily obligations that we're all familiar with. Then, 10 years later, it was finally time to take the first step towards becoming the first cider brand in Austria. With Eva still working in Australia and Adam back home in Austria, the two pretty much worked out everything about the business via Skype.
"Sometimes I get up and call Eva who's just come home from a long day at work, and we'd chat about the next steps. She then goes to sleep and I get ready for the day," says Adam.
Next to finding the perfect cider machinery (cider is a mixture of fermented and fresh apple juice, which is then carbonated), the biggest and most important step for the team was to find an apple grower who would take the risk.
"Producing cider is something completely new in Austria. Finding someone as passionate about the project as we are was the main thing," Adam explains.
"Plus we had to make sure that we'd only process hand-picked apples, fresh from the tree. Because if an apple falls from the tree, it gets these brown spots. They tend to taste a bit mouldy, which is why you then would have to add sugar. So our apples never touch ground, which makes their juice especially sweet and crisp."
So there's only Styrian apples inside of that Goldkehlchen cider, Adam?
"Yes. Everything else is left outside. Because we don't add sugar, we'd never use colourings or concentrate – none of this artificial nonsense. That's why we need the best apples, to get the best taste."
And the whole Vienna Würstelstand team agrees that's the truth. Adam's and Eve's cider is bubbly, delicate and light as a feather. It may be a bit pricier than your average Joe imported cider, but Goldkehlchen is worth that little premium.
Also – starting autumn, Goldkehlchen will be vegan. Chirp.
So glad Adam and Eve took that forbidden apple … and made the first ever Austrian apple cider out of it.