If you're yet to ride the froth and beans of the so-called third wave of coffee, you might want to have a chat with Charles Fürth, owner of the coffee artisan cafe in the 7th district, Fürth coffee. After we did, we left, with a new life philosophy (along with a slight coffee high): Life's too short for bad coffee.
Coffee found me.
Charles is explaining his choice to work with the brown bean. After 20 years of ad film production, these beans – and the artisan movement surrounding them – accidentally become his new purpose in life after he stumbled across others who looked at the making of coffee like a science, and were also passionate about directly supporting coffee bean farmers with the fair trade practices that come with the third wave.
This led to him dedicating three years to perfecting his barista skills and know-how in the coffee art in England. It was worth it. He now makes one of the best coffees in the city.
"If you want to sell your product, you need authenticity – you have to be 100% convinced by it yourself. There's no room for bullshitting with coffee."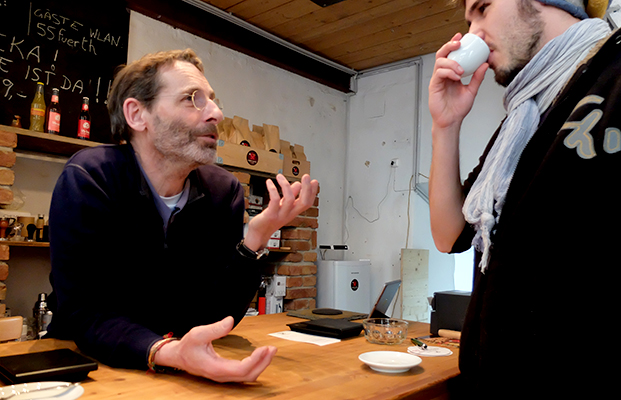 After setting up a roast house in mid-2012 on a farm in Göttelsbrunn – a small town shy of Vienna – Charles moved into his shop in Kirchengasse, late 2013.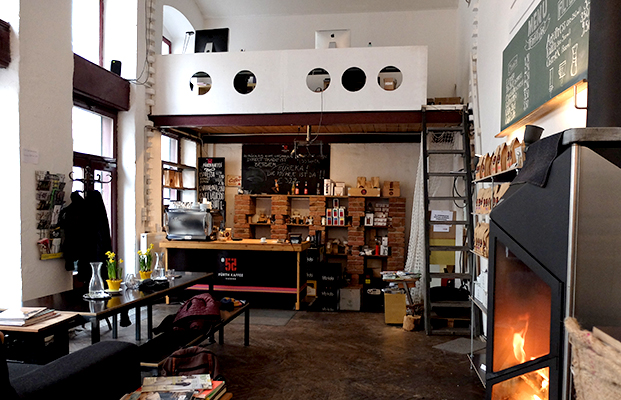 Aromas of the roast fill the cafe/shop with its polished concrete floor and simple layout – the focus is on the coffee more than the comfort.
While sitting on a couch sipping on some coffee, the wood fire oven burning away, you can watch the staff package the beans into branded bags and float around in the brown hole (a black hole made of coffee) of this coffee-verse. There's also the other typical coffee paraphenalia in stock for the coffee nerds.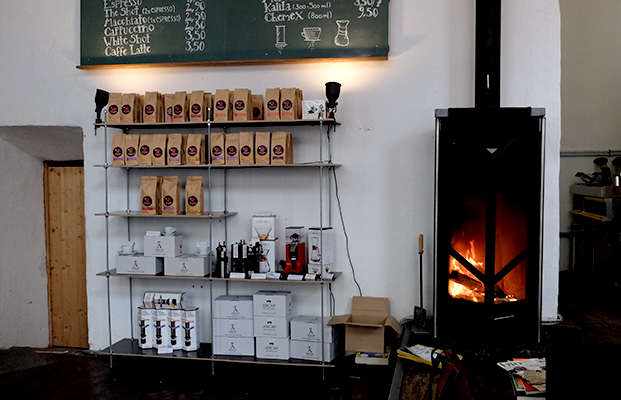 Charles sources his beans directly from three different suppliers in Guatemala, Peru and the rest of the world via England, and an organic one from Holland.
The menu has a vast selection of coffee, coffee and … you guessed it … more coffee.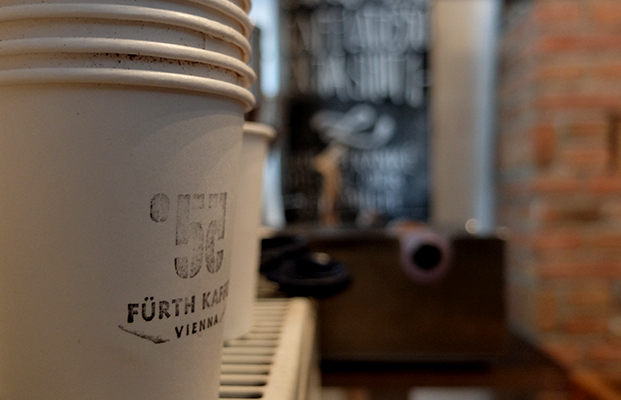 "You won't find any food here. It's not a Kaffeehaus. We serve specialty coffee only," Charles tells us. "It's like a 'vinothek' for coffee." And while selling his beans to a broad base of loyal coffee lovers who turn up daily for a cup of the Fürth brew, he also sells his beans to restaurants and bars.
However, it's tough work as a small-time coffee producer to convince cafes to use your beans, according to Charles, as the appreciation for artisan coffee is not yet fully there in Vienna. But, things are changing.
Things are changing. Viennese people are seemingly opening up to this new world of coffee and they seem to start valuing it like they value their wine.
If Fürth coffee was wine, we'd be alcoholics.