Have you ever noticed how every country has their own beloved soup? Soup is one of the most universal dishes and we've traveled from Afghanistan to Japan and China, without even leaving Vienna, on a tour of the world's soups.
Leave your comfort zone and go on an adventure by traveling with your tastebuds with this list of 11 of the best steaming bowls of hot soup in Vienna.
French onion soup, France
Where to get it?
Where: Herrengasse 14, 1010
Opening times: MON–SAT: 10am–11pm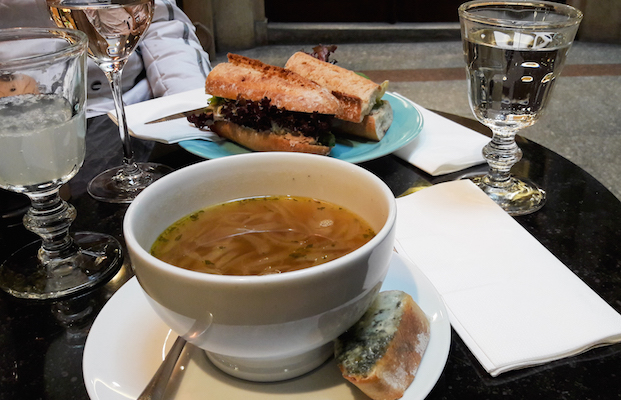 The French onion soup is one of those dishes that tastes so good, you can eat it unapologetically, regardless of the smell of your breath afterwards. The French's beloved soup is a clear broth packed with glazed onions, and is usually served with cheese melted over baked bread. For the best in town, we head to Vienna's 1st district. The quaint and hidden corridor of the Ferstel passage hosts the French bistro Beaulieu. It's easy to spot from the outdoor Parisian-style seating (complete with electric heaters that make it the perfect spot to sit and slurp soup all year round). The menu also sports all the classics from the French kitchen, including a wide range of croques and salads. But Oh, Sacrebleu! – the soup, people. €5.50 will get you a respectable bowl filled to the brim with soft, chewy onions bobbing about in broth. We found ourselves adding some pepper to spice it up a little. The soup comes with a delicious little toast covered in melted Roquefort cheese – a nice twist on this classic.
While some French onion soups are a meal on their own, don't expect Beaulieu's to carry you over to dinnertime. It's a good thing Beaulieu offers a generous selection of French dishes to compliment the soup.
We also recommend… picking one of the excellent wines on their exhaustive wine list and pretend you're in Paris.
Price guide
Onion Soup: 5.50€ (recommended as a starter)
Iskembe çorbası (Tripe soup), Turkey
Where to get it?
Where: Franz-Josefs-Kai 29, 1010
Opening times: SUN–THU: 10am–12:30am, FRI–SAT: 10am–4am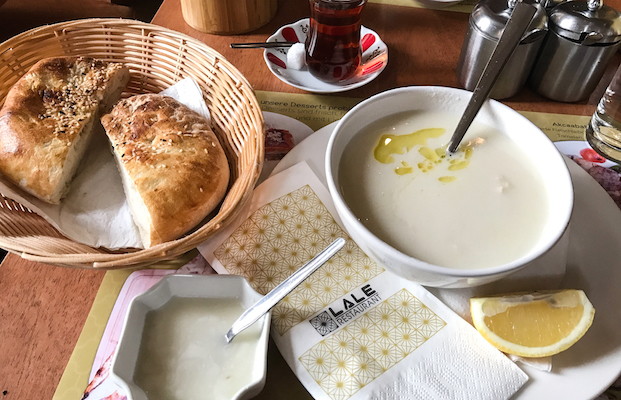 A creamy, thick broth with strips of tripe floating about in a sour and garlic-rich broth – the Turkish tripe soup certainly isn't for everyone, but for those who don't mind eating boiled organs, it will surely have you making loud slurping sounds! This type of creamy, garlicy soup is popular in most Balkan countries, but it's believed to have originated in Turkey. We went for the original at Lale, a recently renovated Turkish restaurant in the 1st district, at the tip of the infamous Bermuda Dreieck. While this place earned its fame for its popular and delicious takeaway döner, we seriously advise you to sit down and taste yourself through their menu. And get the Iskembe soup as a starter. If you're not too hungry, it might as well act as a meal, since it's accompanied by a freshly baked pita bread.
We recommend… taste the soup first and then gradually add some of the garnishes served on the side – you'll be adding the vinegar and garlic concoction in lashes as it enhances the two main tastes of this rather heavy soup in a big way.
Price guide
Tripe Soup = 4.90€ (recommended as a generous starter)
Kamaboko Udon in Japan
Where to get it?
Where: Linke Wienzeile 40, 1060
Opening times: MON–SAT: 12pm–9pm (and they close once on a random Monday every month). Kitchen closes at 8:30pm
The Japanese Udon noodle soup is a dish that's trending of late, and for good reason. The Udon soup is a mildy-flavored, clear broth with thick and round rice noodles, boiled eggs, shrimp or meat, tofu and fresh leafy greens. Like most well-kept secrets in Vienna, the noodle bar Kuishimbo is a subtle, small place that is easy to walk past, unaware of its worth. But those that are oodles for Japanese noodles should seek it out, and experience the big tastes being slurped up here. This is also one of the cheaper and cheerful out of the Japanese joints in town. There's a wall full of noodle dishes listed (in Japanese and German) on your right-hand side as you walk in, and the decision can be intimidating if you don't know your way around the Japanese kitchen. But feel free to ask the friendly and smiling staff for guidance.
Here we simply recommend you give one of the Udon noodle hotpots a go, which the place is famous for. To offer a few examples: the Nabeyaki Udon (a hot pot with chicken), kamaboko (fish cake), mushrooms, and vegetables such as spinach, rice cake, carrot, and a shrimp or egg on top, or the Curry Udon (a similar mix of ingredients to the Nabeyaki, but drowned in a tasty curry soup).
We also recommend… you to to ask the staff to recommend a dish. Or be brave and select randomly to set out on a culinary adventure
Price Guide
Udon soup = from 9.90€ (recommended as a main)
Ciorba (sour soup), Romania
Where to get it?
Where: Sechshauser Gürtel 7, 1150
Opening times: MON–FRI: 4pm–12am, SAT–SUN: 1pm–12am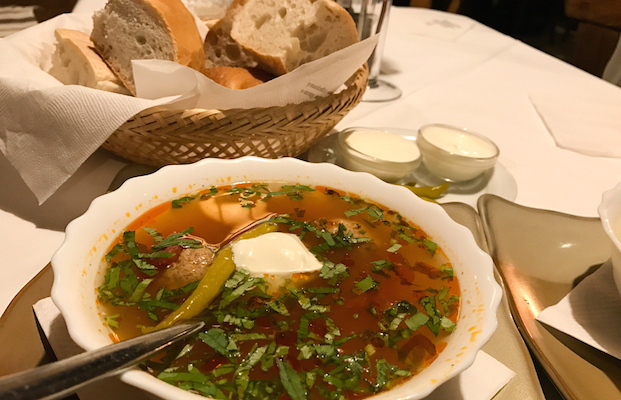 The Romanians are crazy about their soup. We once were told by a Romanian that soup is not just a dish, but it's a way of life, a religion and that if a day passes without him having a soup, sickness is inevitable. The Romanian soup range includes clear or creamy sour broths filled with strips of meat or meatballs, root vegetables and herbs, and is usually served with bread, sour cream and a chili to munch on in between slurps (seriously, don't be afraid to try this – it really adds to the experience). The Romanian sour soup comes in many versions, which makes sense when you consider that Romanians are used to having soup every day for lunch.
While we don't understand that extreme dedication, we must admit that we would go at least a few times a year to this very traditional Romanian restaurant near Gumpendorfer Strasse to get our dose of the dark magic that Romanians work on their broth. The place is modest, a bit kitschy, and while the waiters are really nice they take their time on occassion, chatting with customers or having cigarette breaks. But trust us, the wait is worth the while once the hot broth has made it to your table. Poftă bună!
We recommend… you start with the meatball soup on your first visit, and then return for beef soup, the Transylvanian chicken soup or the Romanian version of the already mentioned tripe soup.
We also recommend… You try their eggplant spread, served with fresh bread and onions.
Price guide
Sour soup (ciorba) = 4.50€ (Recommended as a generous starter)
Pho Bo, Vietnam
Where to get it?
Where: Friedrichstraße 2, 1010
Opening times: SUN–MON: closed, TUE–SAT: 5pm–10pm
The humble national dish of Vietnam, Pho, involves a intense and clear broth poured over thick rice noodles, thinly cut beef slices and an abundance of herbs and sprouts that will have a bunch of different flavours tap dancing on your tongue as it goes down. And you'll surely burn your tongue on the one being served at Vietthao as the smell inspires impatience. Only open in the evening (and full almost every single one of them), it's safe to say the word is out about the tasty Vietnamese cuisine being served up at Vietthao, especially the Pho. The owner will proudly tell you that they've won the competition going on amongst the Vietnamese places in the city (that all seem to know each other) for THE best Pho in town.
Every bowl of the famed Vietnamese soup that goes out is prepared by his wife, whose secret ingredient is 'alot of love and passion,' they tell us. And while we don't like to play favourites, the Pho here is one flavoursome bombshell, full of all the complex characteristics a good Pho soup should involve – a clean beef broth taste, good quality, thinly-cut beef strips, fresh leafy sides, and the bánh phở rice noodles, which just so happen to be homemade. Be sure to reserve here.
We also recommend… you check out these other awesome Vietnamese restaurants serving up prize-worthy Pho in our guide to Vienna's best pho house.
Price Guide
Pho bo: 9.90€ (recommended as a main)
Alt Wiener Suppentopf, Austria
Where to get it?
Where: Jägerwiese 221, 1190
Opening times: MON–SUN: 9am–7pm
No soup tastebud tour would be complete without mentioning Vienna's starter starlet, the Alt Wiener Suppentopf. Ok, it might not have the name of a pop star, but this creation is one richly flavoured broth, made up of beef, root vegetables and thin noodles. This genuine old Viennese soup is usually only to be ordered in the most traditional of Viennese restaurants in the city. The art of making this soup requires time as the broth should be cooked for several hours, therefore only the genuine cooks respect this tedious craft. Austrians seldom cook this at home for this same reason, therefore it is one of our favourite soups to eat out. The extended cooking time ensures an intense, comforting aroma and taste that, together with the thin noodles and veggies, will give you the same kind of goosebumps that are inspired by freshly baked bread.
We thought that for this particular soup, we'd send you on a hike, so that the comfort of slurping at it when you arrive is even more rewarding and something to appreciate. Take the hiking Trail No. 2 (Stadtwanderweg 2) starting in Sievering and ending in Coblenz, and stop along the way to sit side by side with other nature-lovers and slurp this soup.
We also recommend… you share a main dish if you're with company after your soup as all portions are quite generous.
Tom Yum soup, Thailand
Where to get it?
Where: Albertgasse 15, 1080
Opening times: MON–FRI: 11:30am–9:30pm; SAT: 12pm–9:30pm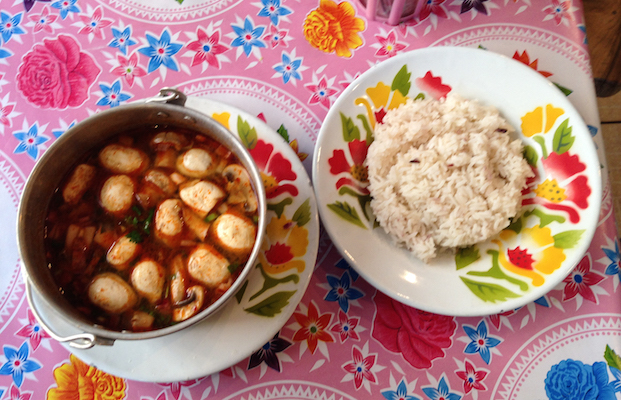 A clear, well spiced, sour broth with the strong taste of lemongrass and chili and served with shrimp, chunky cut mushrooms, tomatoes and herbs – Tom Yum soup is one of our all-time favourites. 
This spicy broth served up Mamanon Thai will wake you up better than a strong coffee. It's a classic tongue-tingler that gives you the sensation of tasting it for the first time with every spoonful. The chunks of mushrooms, tomatoes and lemongrass are haphazardly cut and thrown in as if the cook was in a hurry. But we know better about the fine people at the Mamamon Thai Eatery. This place is one of the best Thai places in town, and one of the few that doesn't hold back with the spice.
This intense soup comes served with rice, partly to relieve you from the chili, partly to make this a filling meal. While other restaurants typically serve smaller portions of Tom Yum as a starter, Mamamon definitely aims to cover a whole lunch or dinner with their Tom Yum soup.
We also recommend… you get a sit at the main table in the middle and start chatting up the other guests. The place is small and intimate.
Price guide
Tom Yum soup = 10.50€ (Recommended as a main)
Haemultang (Seafood Soup), Korea
Where to get it?
Where: Lustkandlgasse 4, 1090
Opening times: TUE–SAT: 12am–3pm & 6pm–12pm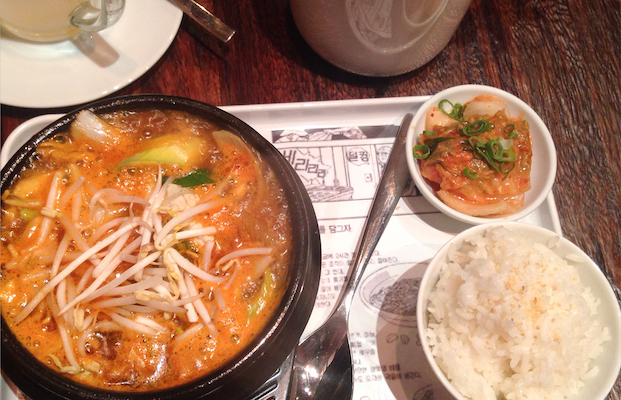 This Korean number is a rich broth, served in a sizzling hot bowl, filled with seafood, sprouts and leafy greens, and served with a side of rice and kimchi (Korean spicy pickled cabbage). 
"Be careful, don't touch the bowl" the waiter tells us when serving up the soup. I got what he meant as soon as my tongue met the soup – the seafood soup is still boiling hot and sizzling in the iron bowl. I feel like I get to witness the last stage of the cooking process. While I wait for it to calm down, I nibble on the rice and kimchi and sip on my ginger brew. It smells so delicious I feel I can't wait anymore. The first sip slightly burns my tongue, but I shrug it off and persist. The fishy broth smells intense and the leafy greens and sprouts are still crispy.
The hot, untouchable iron bowl that is first your enemy soon becomes your friend, as it is responsible for keeping the soup nice and hot up until the very last sip. Oh, and did we mention that it's also quite spicy? We haven't talked normally ever since, but we don't regret it one bit – that's how good this soup is.
Good to know… Haemultang is only served at lunchtime
Price guide
Haemultang = 11.5€ (Recommended as a main)
Wonton noodle Soup, China
Where to get it?
Where: Linke Wienzeile 44, 1060
Opening times: Daily: 11am–11pm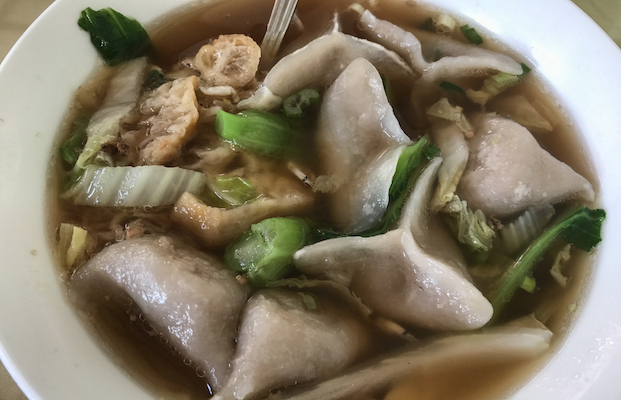 This is a great adventure to have if you're wanting to venture into China's vast culinary landscape, while still wanting to ease yourself into it with the comfort of familiar textures and flavours. Wonton soup looks like a bunch of vegetables, pasta and meat are having a colourful pool party in your bowl, and the taste they create is just as much a party. The clear, meat-based broth, with pasta, meat, and perhaps a few vegetables (amongst many others) being served up at China Zentrum Restaurant tastes like the love that has made them in the kitchen out back. 
We love how slippery the wontons are when we fish them out of the bowl, coating them in the thin layer of fat floating on top of the steaming soup. The broth is robust in flavour and the wontons are just the right amount of a slippery chew.
China Zentrum Restaurant is the kind of place you wouldn't think about going into, but you certainly should.
Price guide
Wonton soup = 4.50€
Mulligatawny soup, (British) India
Where to get it?
Indian Pavilion
Where: Naschmarkt Stand 74–75, 1040 (not far up from Karlsplatz in the restaurant aisle)
Opening times: MON–FRI: 11am–6:30pm, SAT: 11am–5pm, SUN: closed
The incredibly flavoursome Malligatawny soup being served up at this poky little place located in the Naschmarkt is a must for soup-lovers. This soup – which was a dish born in India to suit colonial tastes during the Raj – is richly flavoured and spiced with curry, making every spoonful a taste explosion in your mouth.
The Indian Pavilion opened in 1996 when Indian cuisine was as common as three-nippled elephants. And we'd be surprised if the interior has changed since. The tiny place only has stool seating and space for about 20 people max – and even then it would be like a mosh pit at a Bollywood concert. But that is part of its charm. They also have a small garden out the front from which you can slurp your soup while people watching. The owners, Ashok and his wife Sonja, make it personal. It's such an intimate affair here that the staff are part of the table conversation and the banter between customer and staff over the Beisl-looking bar is brilliant.
We recommend… getting the Indian Pavilion Thali to accompany your soup – the curries will blow your mind!
Price guide
Malligtawny soup= 3.50€
Dal Soup, Afghanistan
Where to get it?
Where: Zieglergasse 29, 1070
Opening times: TUE–SUN: 11am–1am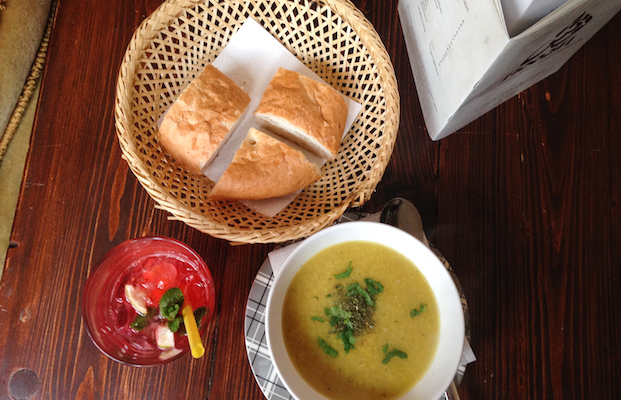 It's got to be one of the most widely spread soups in the Oriental world: the Dal soup – a thick lentil soup, intensely spiced, topped with fresh herbs and served with homemade flat bread.
Just as this soup finds the perfect mix of spices, Noosh has found the perfect mix of interior design: from cosy couches to a spacious divan, over to big wooden tables and large chandeliers. While the cushioned corners are more comfortable to slouch in, we still suggest you sit elegantly at a table while slurping on their dal (lentil soup). The yellow split lentils are almost mashed into a creamy texture in which a carnival of flavours is happening: parsley, mint, cumin, garlic and many others we couldn't distinguish.
A journey of tastes accompanied by the ambient music, the tiles and art pieces exposed on the walls and the staffs warm smiles – this is really like traveling for a meal.
Price guide
Dal soup = 3.50€ (Recommended as a starter)