Fashion is the number one topic in Vienna's blogosphere, and there are plenty of bloggers that have made a name for themselves. While most lists such as these would include the usual, well-established suspects, we've compiled a list of 8 very unique and inspiring Vienna-based fashion blogs.
LNHDD – The Lion Headed (English)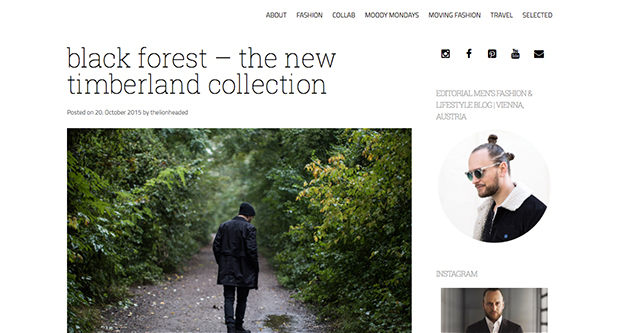 Raffael Payr started his blog in 2014 and is one of the rare male fashion bloggers based in Vienna. With his background in fashion design, which saw him enter a career as an artist after founding his own BMX brand, he now blogs his fashion tips and passion for high quality editorial men's fashion, alongside some lifestyle and travel stories. His photographer Patrick Domingo captures him (photographs and videos) in stunning stylised shots in all kinds of scenic settings to suit the featured outfits, and the stories they tell.
We really like: The blog's simple layout with it's subtle artistic touch. We also like the fact that there's plenty of photography, and little text. The photography is consistently full of powerful expression that would even inspire somebody who's idea of dressing up is wearing their "good" pair of jeans.

Wienstil (German)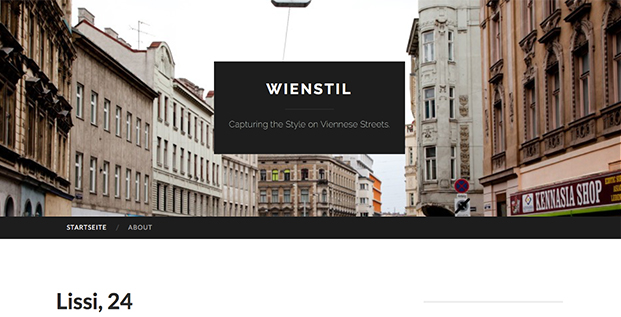 We all do it – check out other people on the street. However Elli has made a blog out of it. The concept behind Wienstil's lies in capturing the style of Vienna's inhabitants. In a blog roll that could be scrolled forever, each post is dedicated to a person Elli has stopped randomlyon the street. It begins with their name and age, followed by a few photos of them in their style with a few more brief details of the brand's that make up their outfit. We love the spontaneous encounters with everyday fashion behind every post. We also admire how Elli's street style blog shows the inspiration found in random human encounters, and documents the various individual styles and personalities that are walking the streets of this city.
We really like: The great views of Vienna's streets and getting to know unknown citizens and their way of expressing themselves. The people of Vienna's streets are the protagonists of this page, not the person behind it.
We love: the answers to the recurring question throughout the posts – describe Vienna's style in a few words.

Dariadaria. (German)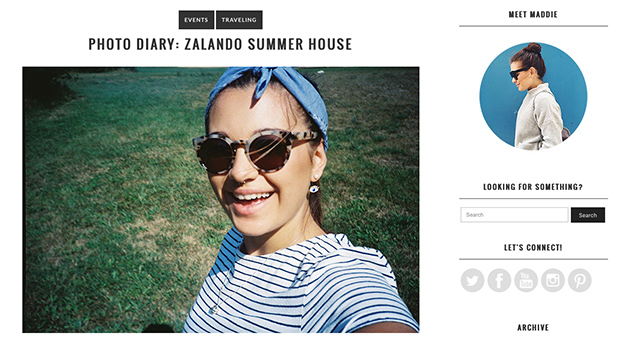 Ok, we couldn't resist including one famous fashion blogger – she's just too adorable! In a edgy, sexy kind of way. Dariadaria is one of the queens of Vienna's fashion blogging scene and has been around for a while. Landing on DariaDaria's page tends to inspire the spirit in a – I want to get a nose piercing, have sex, ride a motorbike and deck myself out in fashion with a classic look – kind of way.
Dariadaria's recent work with the refugee issue as the founder of Madeleine Alizadeh in the last few months has also earned her admiration. But her main charm is how she blogs about classic fashion, beauty tips and a lively lifestyle, minus the superficiality and pretentiousness.
We really like: Her section fair fashion, where she shares info and links about Fair Fashion – where to get it, why it's important to only buy it etc.

h.anna (German)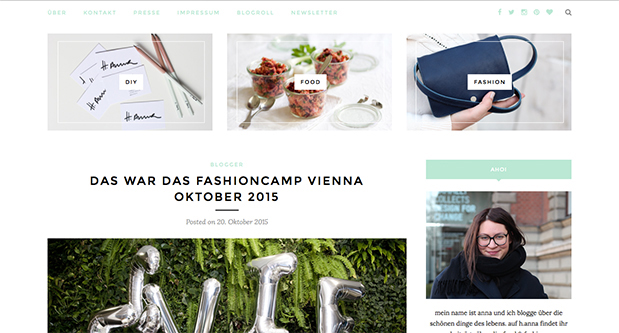 Viennese DIY, food and fashion blogger Anna Heuberger shares her insights into her city life, her passion for DIY, and her favourite food and fashion tips. She's also the founder of FashionCamp Vienna – an annual gathering of lifestyle bloggers. Instead of putting herself in the spotlight, she seeks out and reveals insider tips on brands, designers and shops. Her DIY projects are inspiring and her food photography will have you running for the fridge.
We really like: the layout of her page is super tidy and clean, just like her content and writing style. Plus: the graphic designer in us really likes that she writes in the lower case!

Vienna Wedekind (German)
Vienna Wedekind is great if you're the kind of girl who wakes up everyday in need of inspiration for what to wear. Even if you're not, the website will surely draw you in. With its sleek, simplistic design, brilliant photography and the pretty face of actress and author of the blog, Carola, you can't help but sink into it like a comfy leather sofa. This blog is her "visual diary and moodboard," she claims.
We really like: Her section moodboard in which she photographs a stylish girl's essentials for specific occasions, eg. a long weekend

Fleur de mode (English/German)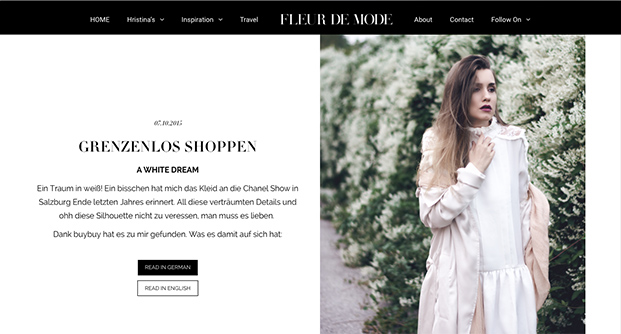 Fleur de mode is a relatively young Viennese fashion blog founded by Hristina three years ago. It's already won a bunch of prizes and landed a few big fashion names as sponsors. Her posts star herself in elaborate fashion styles, while she poses with a somehow melancholic (almost smug) look, that is difficult to draw your gaze away from. The photography lends the whole blog a very mystic touch. She intentionally trades in the glossy editorial look you see on many other blogs for a more expressive, artistic approach. She also throws in a touch of inspiration here and there, alongwith some travel tips.
We really like: Her weird melancholic expressions that really make the blog's photographic style very unique.

New Kiss on the Blog (English)
Berlin-born and Vienna-based male fashion and street style blogger Jean-Claude Mpassy has managed to gain quite impressive an amount of attention within just a few years. Blogging about menswear and offering fashion inspiration, he also conveniently shares links to brand's websites and online shops where you can buy the featured fashion. He also post's his own street style photography, which offers insight into the people and fashion of Vienna, and also his own sources of inspiration.
We really like: His street style section which never fails to find and depict the outrageous, and most unique people.

Herpistolgo (German/English)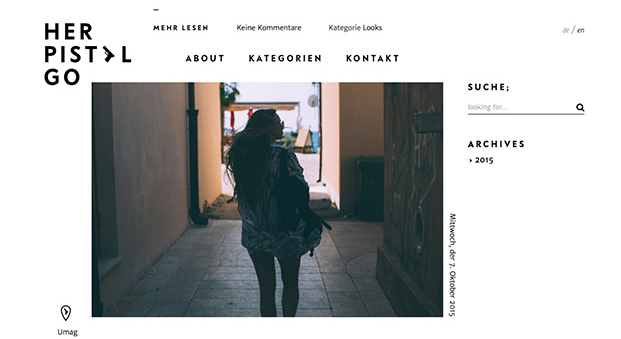 Rather than telling you what's fashionable, this blog is all about inspiring your very own, unique look with fashion which expresses who you are. And Annika does this in a bold and spirited way. Obviously a woman who knows who she is, she is featured in most of the pictures by her photographer Danny, who's dedicated to filling the gap between street style photography and high fashion editorials.
We really like: The logo. The simple page layout. The colour and mood landscape in the photography. The simplicity of the concept and its bold realisation.